Sultans of Snow: An Interview with a Loon Snowmaker

< Back To Stories
Sultans of Snow: An Interview with a Loon Snowmaker
December 6, 2017
This post was originally published to the Loon Mountain Resort blog on November 30, 2017. To find snowmaking jobs in New Hampshire, visit our Jobs page.

If you've made a trip to Loon this winter season, then you've undoubtedly seen how impressive the amount of snow cover and open terrain has been so far. However, Mother Nature doesn't deserve the praise for dumping snow on the mountain yet – that honor belongs to the snowmakers. I tagged along for a "gun run" with one of our snowmaking foremen, Nathaniel Hairston, to learn more about the art of snowmaking and what a day in the life of a snowmaker entails.
At midnight, when most of us are fast asleep or just about there, Nathaniel is just beginning his day. He works the AM snowmaking shift, which runs from 12 a.m. to 12 p.m. Upon arrival, snowmakers get suited up in their gear and head to the foreman's office to get their work assignments.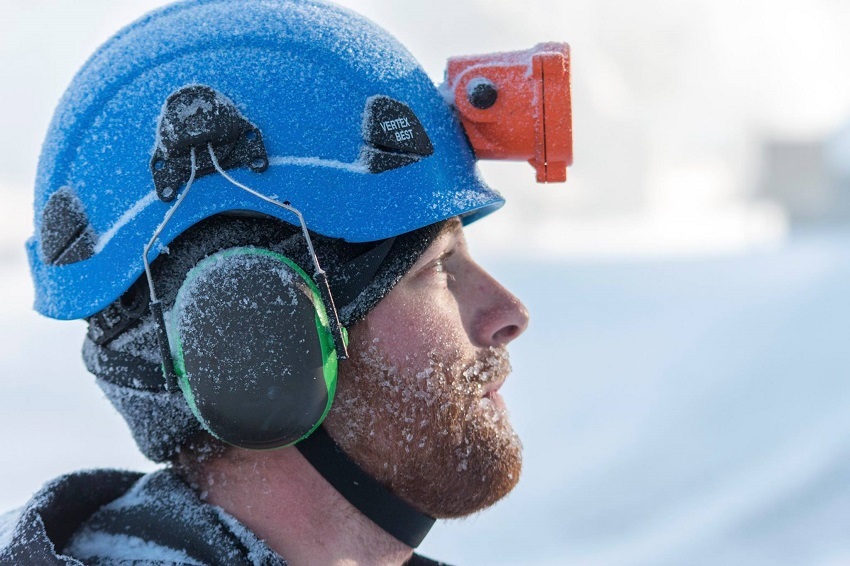 "One of the other foremen or I will give everyone a trail assignment and say this is the trail you're going to be responsible for," he said. "And they'll be in charge of maintaining it if we're already making snow."
Nathaniel said most of the time the snow guns will be running by the time the AM shift starts because temperatures are usually pretty cold around midnight, but sometimes they will need to fire up guns on new trails or shut down trails they've been blasting on. After each snowmaker gets their trail assignment they patrol the trail and check for any issues.
"As the snowmaker goes down the trail, they're looking out for ice buildup on the guns, any hoses or guns that are getting buried," Nathaniel explained. "And they're also checking the snow quality to make sure that it's making the type of snow we want."
He said there are three different types of snow they make: base, production, and resurfacing. Base snow is a heavy, wet snow that typically freezes up to form a solid base for the trail. Production is a drier snow that's used to build more depth, while resurfacing snow is the driest. Nathaniel said once all the trails are open midway through the season they will usually hit them with some resurfacing snow to refresh the entire mountain.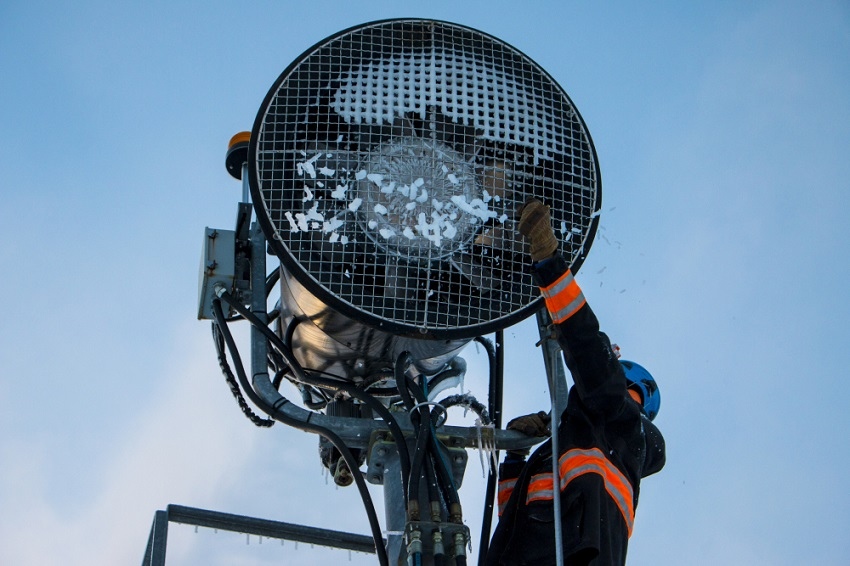 The snowmakers utilize several different types of snow guns, some of which are mounted on towers, while others are attached to sleds for portability. They also use fan guns – which kind of resemble a big spotlight or a cement mixer. They even have some fan guns that were custom designed by Boyne Resorts. Aside from the snow guns and hoses, Nathaniel said there are a few other pieces of equipment every snowmaker needs.
"A hammer is a snowmaker's most important tool," he said. "You can flip it around and use the claw to dig out a hose, you can hit the bracket of the gun to knock some of the ice off – there's almost endless uses for a hammer as a snowmaker."
He said snowmakers also need a wrench or two and a lighter or striker to ignite propane torches used for thawing frozen hydrants and the like. Another item that snowmakers keep handy is a pin to unclog any backed up nozzles. There are the basics too like helmets and warm winter gear, but Nathaniel said getting cold is rarely a problem.
"It's funny because a lot of people will say, 'Oh I could never do that, I get cold too easily!' And I tell them that I actually spend more time overheating than being too cold because it's physical and we're working so you actually stay pretty warm," he explained with a laugh.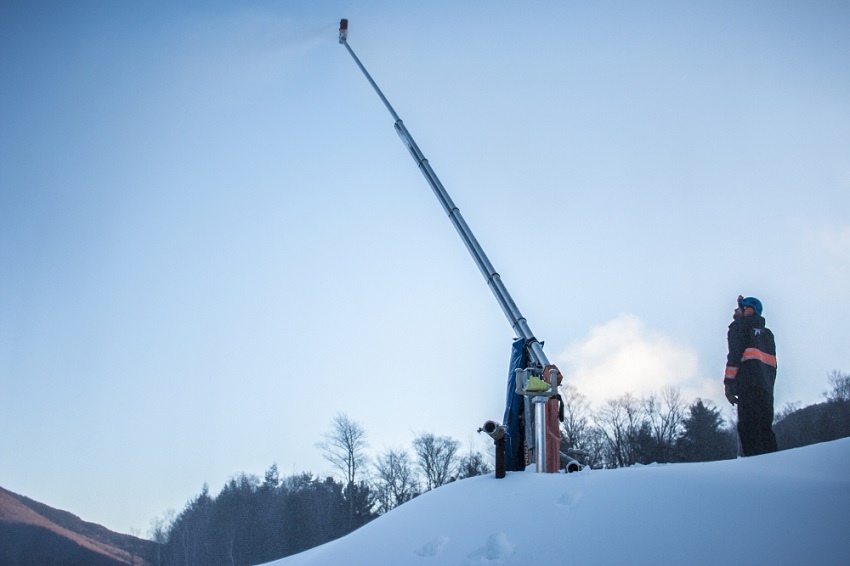 This is Nathaniel's third season as a snowmaker, but he said he had been eyeing a job on the mountain since he was in high school.
"I had an interest in working at a ski area for quite a while – that started in high school," he said. "I started working here part-time while I was in college and when I graduated I moved up here and started working here full-time last season."
Nathaniel said the most rewarding part of his job is the satisfaction of being able to ski on trails that he made snow on.
"Skiing is one of my biggest passions in life, and to be able to ski a trail after I've made snow on it and know that I've had a part in getting it into its condition – that's a big perk," he explained.
Nathaniel said he also enjoys working with the snowmaking equipment and that he loves working outdoors in general.
"I love seeing the sunrise on the mountain every morning and I think the equipment we use is really cool too – the snowmobiles, the snowcats and the snow guns themselves," he said.
It's a physically demanding job that requires braving the elements for hours at a time and working long shifts, but for snowmakers like Nathaniel – it's just another day at the office.