Spooky Ways to Celebrate Halloween

< Back To Stories
Spooky Ways to Celebrate Halloween
October 11, 2017
Throughout the world, ski areas are known for some of the spookiest ghost legends around. Take the Omni Mount Washington Resort in Bretton Woods for instance. It is said that Carolyn Stickney, wife to the man who built the hotel in the early 1900s, who was later referred to as "The Princess" after marrying French royal, Prince Jean Baptiste Marie de Faucigny Lucinge, still roams the hotel, writing on walls and flickering the lights in a ghoulish fashion. The brave of heart can even stay in her room, where you may catch a glimpse of the famed ghost.
But if you're not up for a true haunting, these ski areas are sure to get you in the spirit of the Halloween season with haunted hayrides and houses in New Hampshire.
The Ghoullog at Cranmore Mountain Resort
Feel the fright at this North Conway resort, which houses a 50-minute haunt in a 15,000 square foot space, plus an outdoor element in the dark, dark woods. This haunted excursion is recommended for ages 10 and up, but the Haunted Playground offers more thrills and less chills with a Mountain Coaster, Giant Swing, and the Soaring Eagle zip line. The Ghoullog is open on Fridays and Saturdays from now through October 28, 2017.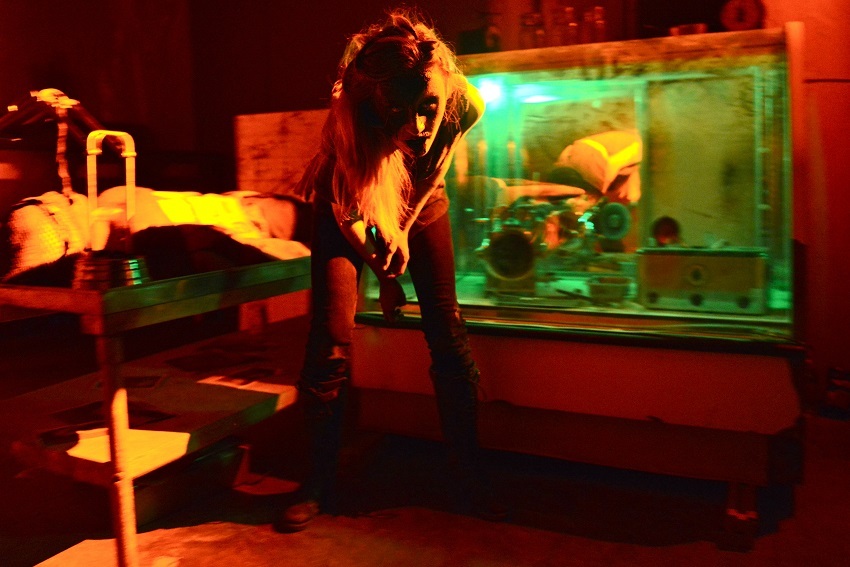 Ghostly Gorge at Granite Gorge Ski Area
Head to Keene for this haunted hayride and house that is sure to chill your bones. Open Fridays and Saturdays starting October 13 through October 28, 2017, you'll ride through spooky woods and encounter frightful beings. But if you're one of the first five people at the door, you'll receive a complimentary snow tubing ticket for the 2017-18 season (which may come as a comforting offer that you'll certainly make it out of this haunted house in one piece).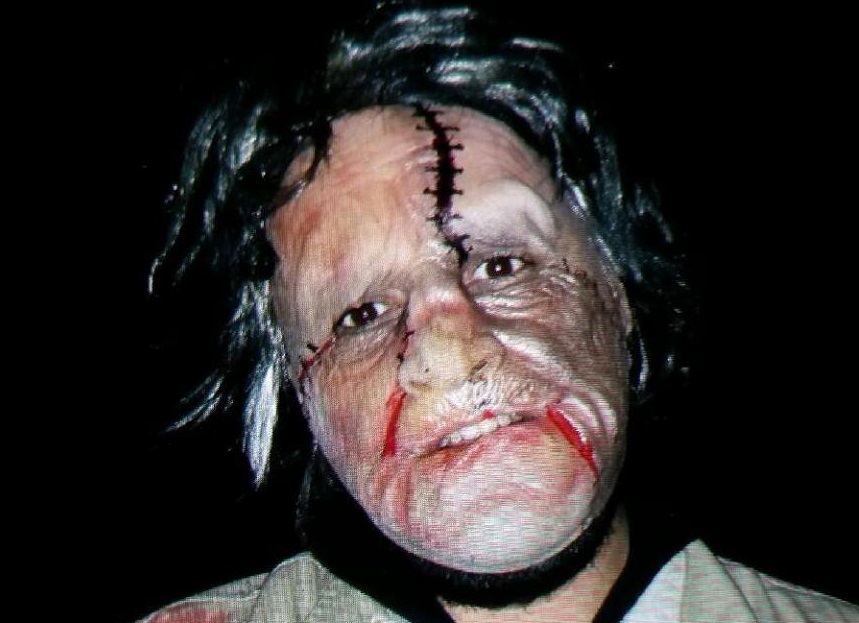 Halloween Town at King Pine at Purity Spring Resort
Not unlike the TV movie from my youth, King Pine's Halloween Town celebration on October 21 welcomes ghosts, ghouls, and costumed fools of all ages to take part in this fundraiser for the Laura Foundation. In addition to a bouncy house, carnival games, and plenty of food, there is also a Halloweenie Walk for non-scary trick-or-treat fun, as well as the Trick-or-Treat Trail for a scarier experience.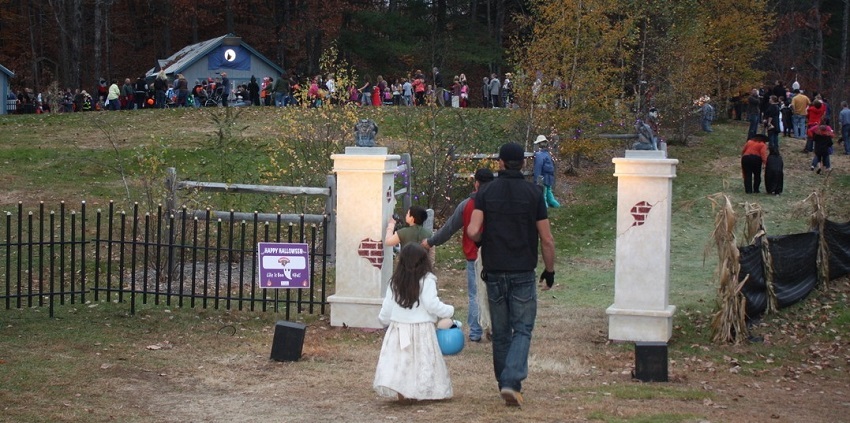 Valley Halloween Celebration at Waterville Valley Resort
If you're looking to take your trick-or-treating on the road this year, head to Waterville Valley's Town Square on Saturday, October 28, 2017. There will be Halloween haunts, spooky food and drink specials, family activities, and plenty of Trunk-or-Treat candy for costumed kiddos.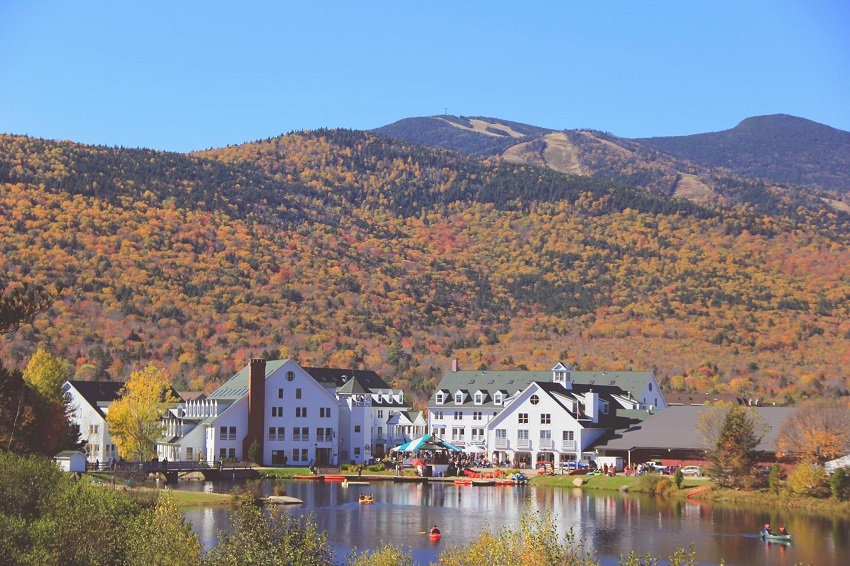 Wicked Woods Weekend at Bretton Woods
This kid- and family-friendly weekend at the Omni Mount Washington Resort is a perfect fall getaway that's not too scary. Whether you bunker down for a Halloween movie or cookie monster decorating, or go to a tarot card reading, Trunk-or-Treating, or the scavenger hunt, it's a fun-filled weekend at New Hampshire's own haunted hotel on October 27-29, 2017.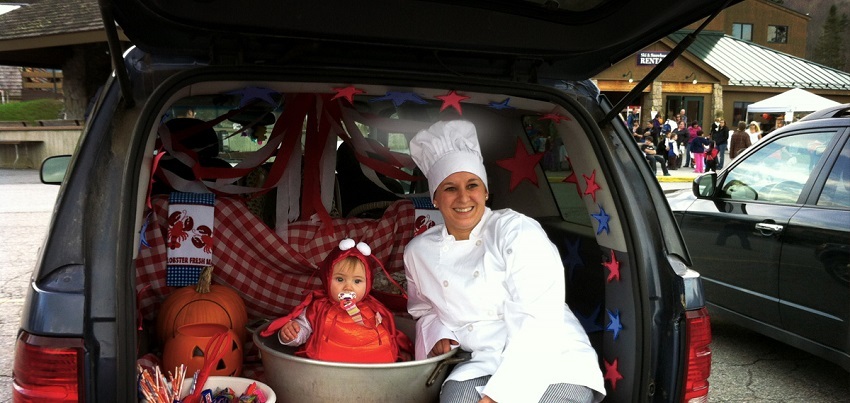 Moonlit Zip Tours at Gunstock Mountain Resort
Now, if your really not ready for the full-on scary Halloween experience, Gunstock Mountain Resort in Gilford is offering Moonlit Zip Line tours for non-werewolves on Saturdays through October with advanced reservations, and many ski areas offer ways to enjoy the foliage well through October too.