A Ski Day Checklist

< Back To Stories
A Ski Day Checklist
February 19, 2018
Planning for a day at the slopes or on the trails can definitely involve a little advanced legwork. You may want to research where to go, looking at which areas have the most snow, or the best deals, or the options of things to do after you've put your skis away for the day. Will you go for a day trip or spend the night? Do you want to spend a weekend at the same ski area and get to know that resort well, or base somewhere that allows you to ski at multiple resorts with only a short drive?
If you're not committed to one particular ski area, there are plenty of things to consider. But it's also worth considering making a list to ensure you've got everything you need when you do finally decide on what your ski plans will entail.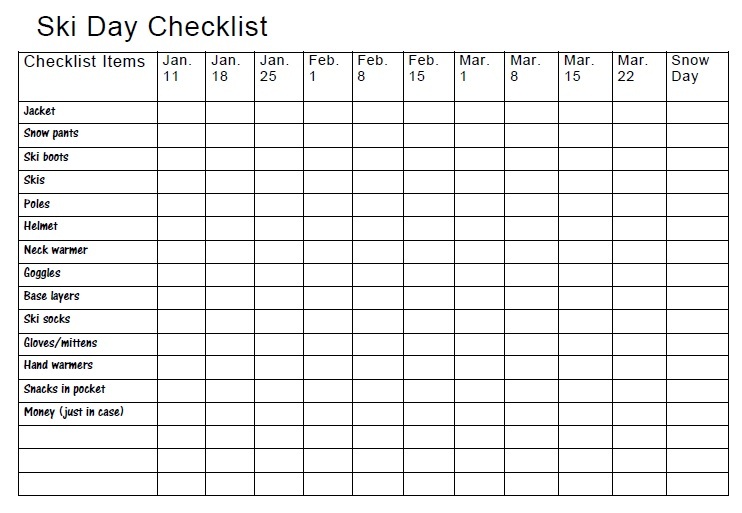 I am fortunate to live in a town where all of the local elementary school kids have the opportunity to ski one afternoon a week between early January and mid-March. They have a half day of school, then head to one of the local ski areas. My daughter attends a school where each Thursday afternoon she finds herself skiing with a group at Cranmore Mountain Resort. Our routine is that every Thursday morning, she packs up her stuff and I drive her and her skis to school, we put her skis in the trailer that brings all of the kids? skis to the mountain, and she heads to class with her boot bag and other items.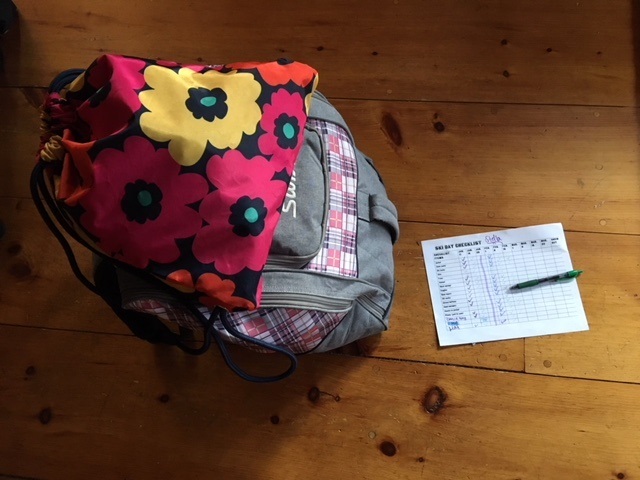 My son graduated from this program 3 years ago, and so combined I've got 9 years of bringing skis and gear to school each Thursday, January through March. Last year my daughter started a checklist of everything she would need to remember to pack. I remember thinking how smart and helpful that was, and I only wish I had thought of it many years ago when we first started bringing kids to the slopes!
For those of you who haven't thought of this handy system, I thought I would share. Of course, you might have other things that you want to remember to bring along for a day on the snow, but this can certainly be a starter guide. Other things may not pertain (for example, not everyone is going to need to bring their "dance bag" – my daughter goes straight to dance class after her ski program. Yes, that makes for both a long day and some great sleep!), so feel free to take from this what you will.
Skiing – and other endeavors – are always better when you arrive prepared. Over the years I've dealt with figuring what to do about a number of forgotten items ? ranging from snow pants to ski socks to the skis themselves ? and with the stress and sometimes tears that accompany those moments. In case you haven't figured this out for yourself already, trust me when I say that a little checklist can go a long way in saving you lots of aggravation (and sometimes money) on your ski day.
Now, check that list, and get out there and have some fun!