Ski NH Annual Conference & Trade Show



Plan to join us!
June 6-7, 2023
Waterville Valley Resort
1 Ski Area Rd.
Waterville Valley, NH 03215
Ski New Hampshire is excited to welcome ski area staff, industry partners, and exhibitors this June. This year's in-person 2-day event will take place June 6-7 at Waterville Valley Resort.
Tuesday offerings include educational sessions, two trade shows, and we're looking at potentially setting up a space for displays or demos of larger equipment. The two trade shows will include a luncheon and cocktail hour respectively, and after the second trade show is finished, there will be an hour break, and attendees will reconvene for a BBQ and more networking opportunities in Town Square.
Tuesday Schedule:
7:00-11:30 am Registration
9:00-10:15 am Session I
10:30-11:45 am Session II
11:45a-1:30 pm Buffet Lunch & Vendor Tradeshow
1:45-3:00 pm Session III
3:15-4:30 pm Session IV
4:30-6:00 pm Vendor Trade Show Cocktail Hour
7:00-9:30 pm Town Square BBQ & Evening Festivities
Tuesday Sessions:
We will soon be sharing the complete sessions agenda and more info on the speakers and substance of the sessions, but the topics that we have confirmed are as follows:

* How to Manage Aggressive Human Behavior
* Case Studies in Staffing Solutions: Tips & Tricks to Get Your Mountain Staffed Properly
* Improving Social Media Engagement & Website SEO
* Inclusivity in Marketing
* Commercial Composting
* Roundtable on On-Mountain F&B Service Challenges
* Tecumseh Lift Tour
* Lift Operations Roundtable
* Chainsaw Class (limited - Contact Melody@skiNH.com to reserve your spot)
* Ski Patrol Roundtable
* Ski School discussion led by Kathy Brennan, CEO of PSIA-AASI Eastern Region
* Summer Lift Evacuations
* Small Ski Areas Roundtable
Wednesday Program:
Ski NH is working on putting together a "Coffee with Commissioners" (NH state commissioners from key departments). Other events scheduled include an Awards Brunch and our annual business meeting. For those continuing on to the Ski VT annual event, there is plenty of travel time between the end of our event and the start of theirs on Wednesday evening.
As this is a special anniversary event, more details and fun surprises will be forthcoming.
Ways to participate in the conference:
Ski Area Personnel, Ski Shops, Trade Partners and please check your "Register to Attend the Ski NH Conference & Trade Show!" invitation email sent on 5/3 for online registration or reach out to info@SkiNH.com for the link.

About Membership

Businesses become Associate Members to connect with and support the ski industry in New Hampshire, and to promote their goods and services to our ski area members. Learn more about Membership here.
Pricing for Associate Members/ Vendors:
Annual fees for the 2023-24 membership year:

$150 for companies with 10 or fewer employees
$300 for companies with 11 or more employees
Memberships run from June 1st, 2023 - May 31st, 2024
Conference costs:
Day One attendance is $100 pp
Both Days are $140 pp
Booths are $250

Sponsorship Opportunities

Interested in a bigger presence at our event? We have several options for your company to sponsor the Ski NH Annual Conference & Trade Show. Your sponsorship will further amplify your business presence at the event and also helps us make it more affordable for ski area staff to attend.
Check out our Menu of Sponsorship Options


Lodging (while available):
Town Square Condos: Rooms for June 6th- $219+ tax.

For these rates, please call 603-236-8175 and simply let them know you are with the Ski NH Conference.

Questions? Contact Kathleen@SkiNH.com or Melody@SkiNH.com, or call 603-745-9396.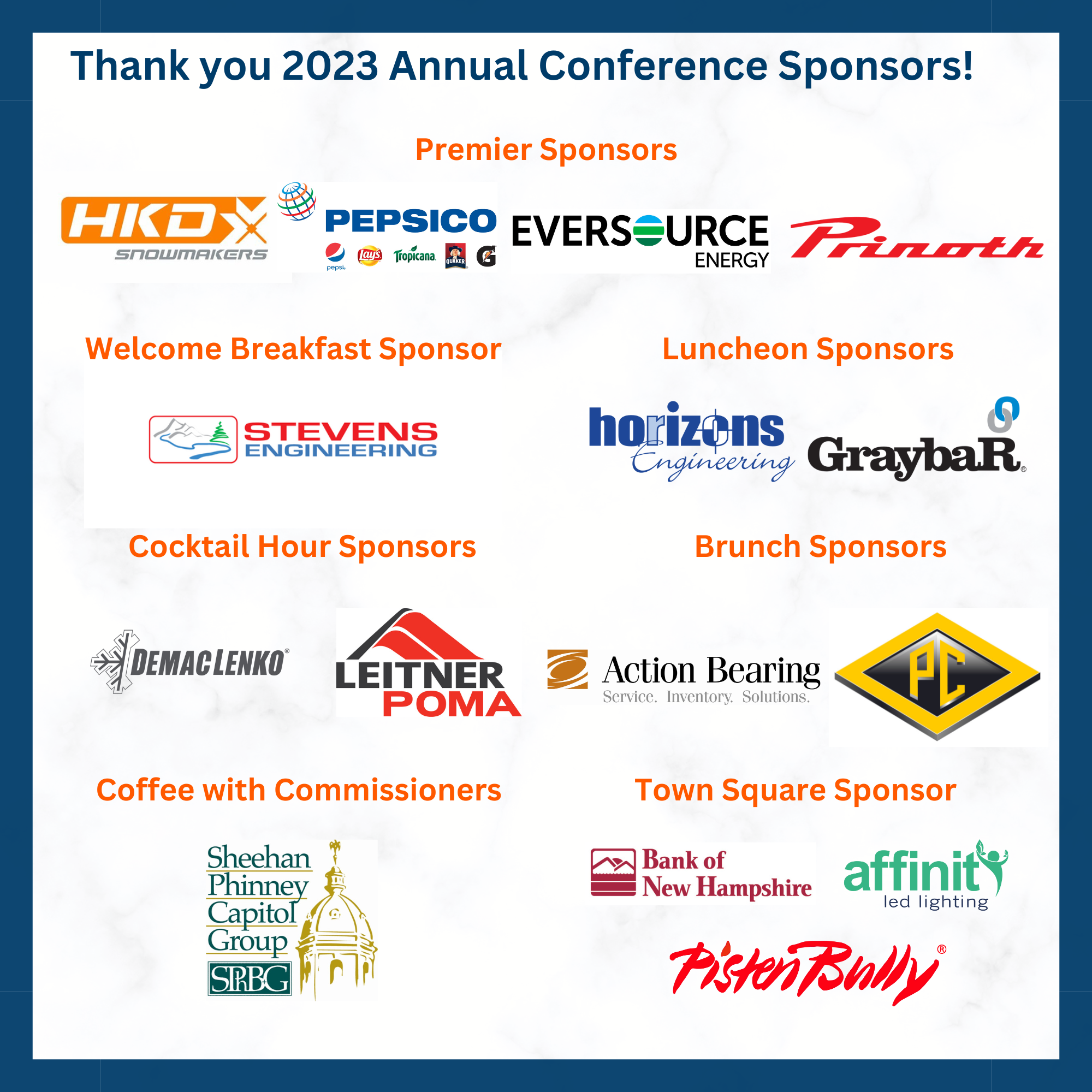 .