Promote your business with a digital ad on SkiNH.com
SkiNH.com is the #1 online resource for NH-bound skiers who are looking for information about where to ski, deals, trail conditions, events, and more. As one of the top referring websites for our 32 alpine and cross-country member resorts, ad options provide more opportunities to get your message and brand seen by the skiers, riders, and other tourists who visit our site to learn about our member resorts.

SkiNH.com User Statistics:
414,398 total page views
343,041 unique pageviews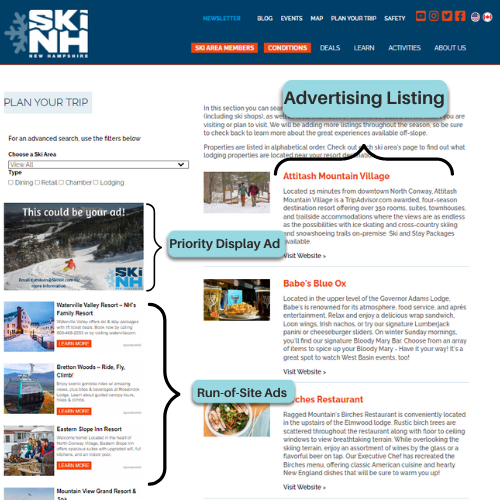 SkiNH.com Priority Display Ad
Priority Display Ads are included in customized sponsorship packages and are a great way to get your brand noticed on SkiNH.com. You choose which page you want your ad on, it is one of the first graphics our viewers see, and it stays in the same place all year long. With the purchase of a Priority Display Ad, your business will also be added to our Plan Your Trip page, which many of our users view and utilize to plan their trip. Your sponsorship package will include your ad along with other promotional opportunities customized according to your business's marketing needs and the opportunities offered by Ski NH. Quantities are limited. Email Kathleen@SkiNH.com FMI. (360x225px jpg or png)

Run-of-Site Ad
The run-of-site ads are on nearly every page, including this page on the left-hand side, and feature 5 ads that rotate through the totem. This is a great way to showcase your brand throughout SkiNH.com. Hundreds of thousands of people visit SkiNH.com every year to plan their ski vacation and scout out on-mountain activities. In order to provide the greatest value for these ads, only 25 ads total will be sold. Your business also receives a listing in our "Plan Your Trip" section if you are a lodging, restaurant, or retail property. (145x145px jpg or png)

Advertising Listing
Listing your business on our Plan Your Trip page is the most basic option for advertising on SkiNH.com. This page is used by visitors to, well, plan their trip to New Hampshire! Users have the option to filter what they are looking for (lodging, restaurants, or shopping) near the ski area they are planning to visit (Ski NH tags these properties with the ski areas that they are near), and up to four of these listings appear in rotation on the resort pages for which the properties are tagged. (360x225px jpg or png)
Advertise Now!
If you are hoping to boost your business to skiers, riders, and others seeking information about NH's ski areas throughout the year, advertising on SkiNH.com is the best way to go! Below is our current digital ad rate sheet. Note that our standard advertising cycle is November 1 through October 31.
If you are interested in learning more, call 603-743-9396 ext. 201 or email Kathleen@SkiNH.com. If you are ready to showcase your brand on SkiNH.com fill out the Ad Contract and email it to Kathleen. Invoices for ad services can be sent upon request.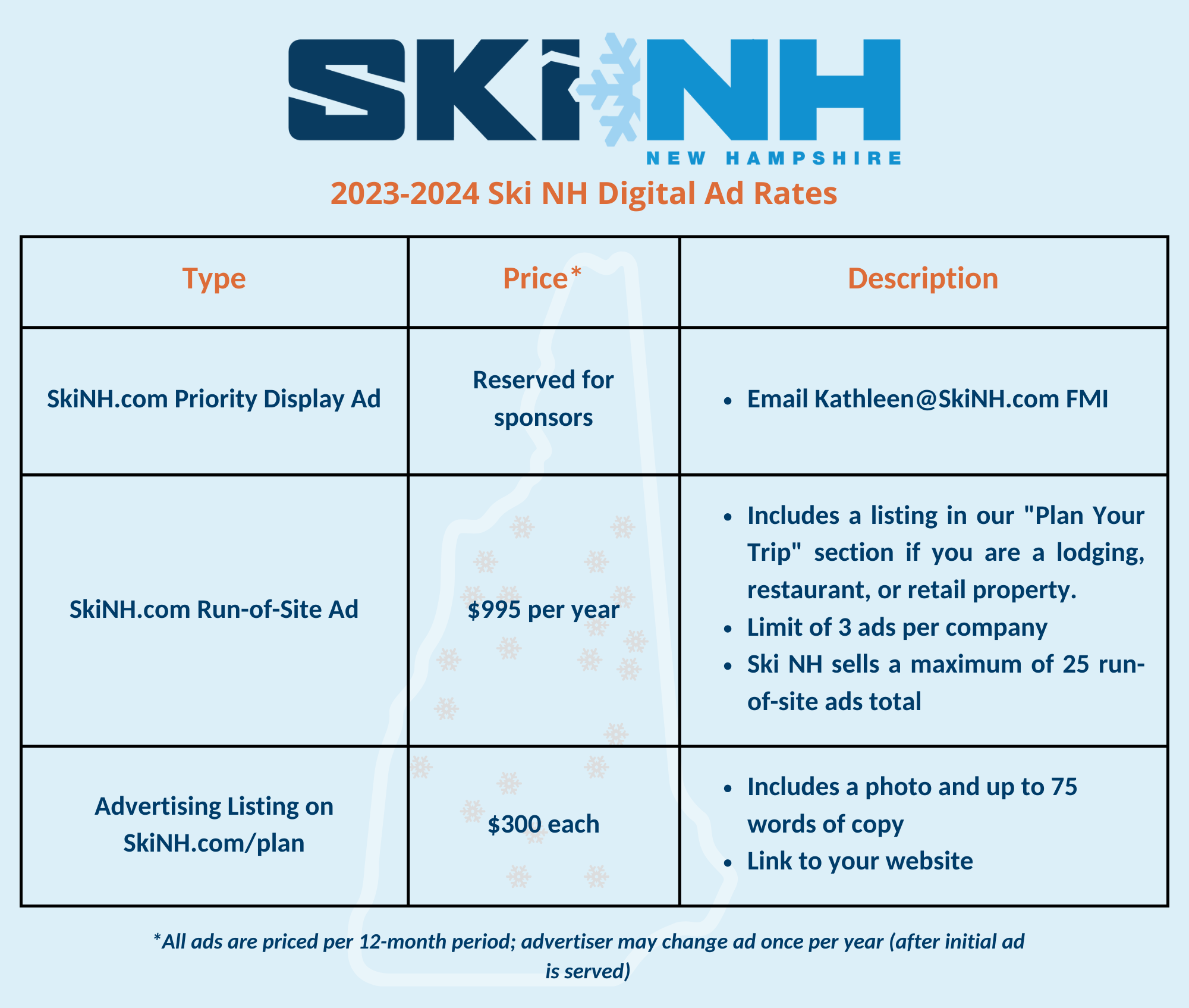 .
Advertise With Us