ResortBoards - A New Adventure at Waterville Valley

< Back To Stories
ResortBoards - A New Adventure at Waterville Valley
June 28, 2018
The newest summer activity at the Adventure Center at Waterville Valley in New Hampshire is the ResortBoard Adventure Tour, the first experience of its kind in New England. The ResortBoard is a battery-operated cross between a skateboard/snowboard and Segway, which has a thumb-operated accelerator and turns by weighting the toe or heel edge. Let go of the thumb switch and the ResortBoard comes to an immediate stop. There are two speeds and a button for reverse. Check out the ResortBoard video.
"It is exciting to not only be adding new activities that we have never had in Waterville Valley, but to also be creating a new type of experience in the Northeast," says Tim Smith, President and General Manager of Waterville Valley Resort. "You can't really experience the White Mountains without getting outside, getting off the beaten path, and seeking out a bit of adventure. Partnering with ResortBoards is allowing us to take some of what we love about snowsports and apply it to the summer and fall months."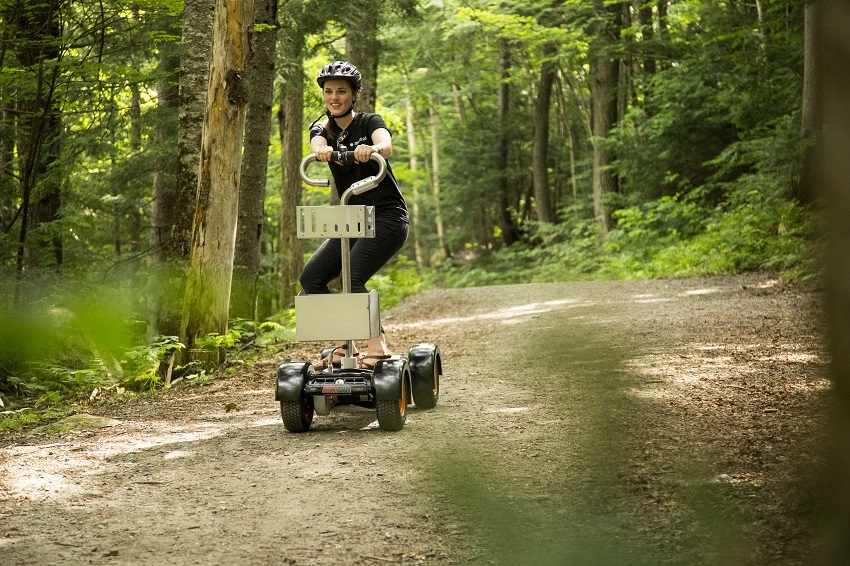 ResortBoards are highly versatile personal transportation vehicles and can be used on pavement, gravel, loose dirt, mud, and even packed powder. The rugged design includes heavy-duty front and back spring brackets, off-road suspension system, plus 13x5 inch wheel package that improves stability and optimizes clearance. ResortBoards are also equipped with an undercarriage protection system that includes gearbox skid cover and protective roller bars.
Waterville Valley Resort's guided Adventure Tours are designed around each group's abilities and interests, and pairs practice and play with trail riding along cross country ski trails, woodland paths, mountain biking system, and expansive wildflower fields. Stops include photo-worthy views, local landmarks, and some little-known hidden gems, allowing an intimate tour of the Valley floor for new and long-time visitors alike.
ResortBoard Adventure Tours are up to an hour and a half experience on weekends at 10:00 AM and 2:00 PM with a guide, and a group of up to five can be accommodated ($48 per person). Other ski resorts that have ResortBoards include Roundtop in PA, Wisp Resort in MD, and Canaan Valley in WV.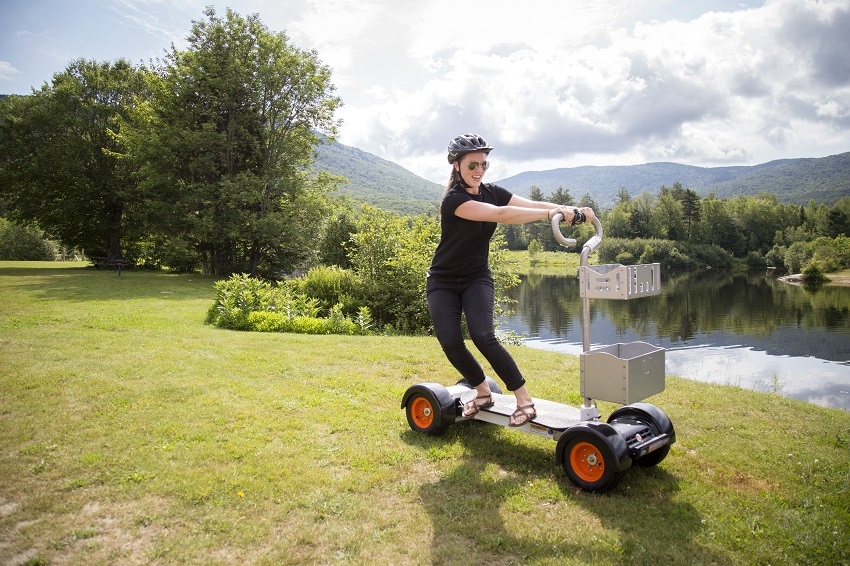 The ResortBoard is used at more than 250 golf resorts as an individual transportation device to replace walking or golf carts. It weighs only 125 pounds, and costs just 7 cents a charge for up to 18 miles or about 4 hours. The ResortBoard can be used on pavement, gravel, loose dirt, mud, and even packed powder as a vehicle for year-round back-country trail riding, on fire roads, single track bike paths, cross-country trails, and catwalks. The optional detachable carry baskets and cooler allow you to bring extra gear, drinks, and snacks. With over 400 pounds of total carrying capacity, you can load equipment for your backcountry excursion.
Balance and control for a first time ResortBoard rider comes quickly with a brief practice to get used to the thumb accelerator and turning. Those who have surf, skateboard, or snowboard experience can get comfortable on the ResortBoard very easily. Trail enthusiasts will love riding the ResortBoard and even though the speed is slow enough to make it a relatively safe experience for the average recreationist and they're a load of fun, you still have to sign a waiver form to use it.
This piece was originally published by XCSkiResorts.com, a detailed resource on cross-country resort destination information, and news for offers, events, programs, and recommendation lists. Roger Lohr of Lebanon, NH, is the co-founder and editor-in-chief of XCSkiResorts.com.