January 5, 2022
Business is Booming at New Hampshire Ski Areas
NH resorts navigate a successful holiday period despite snow, staffing and COVID challenges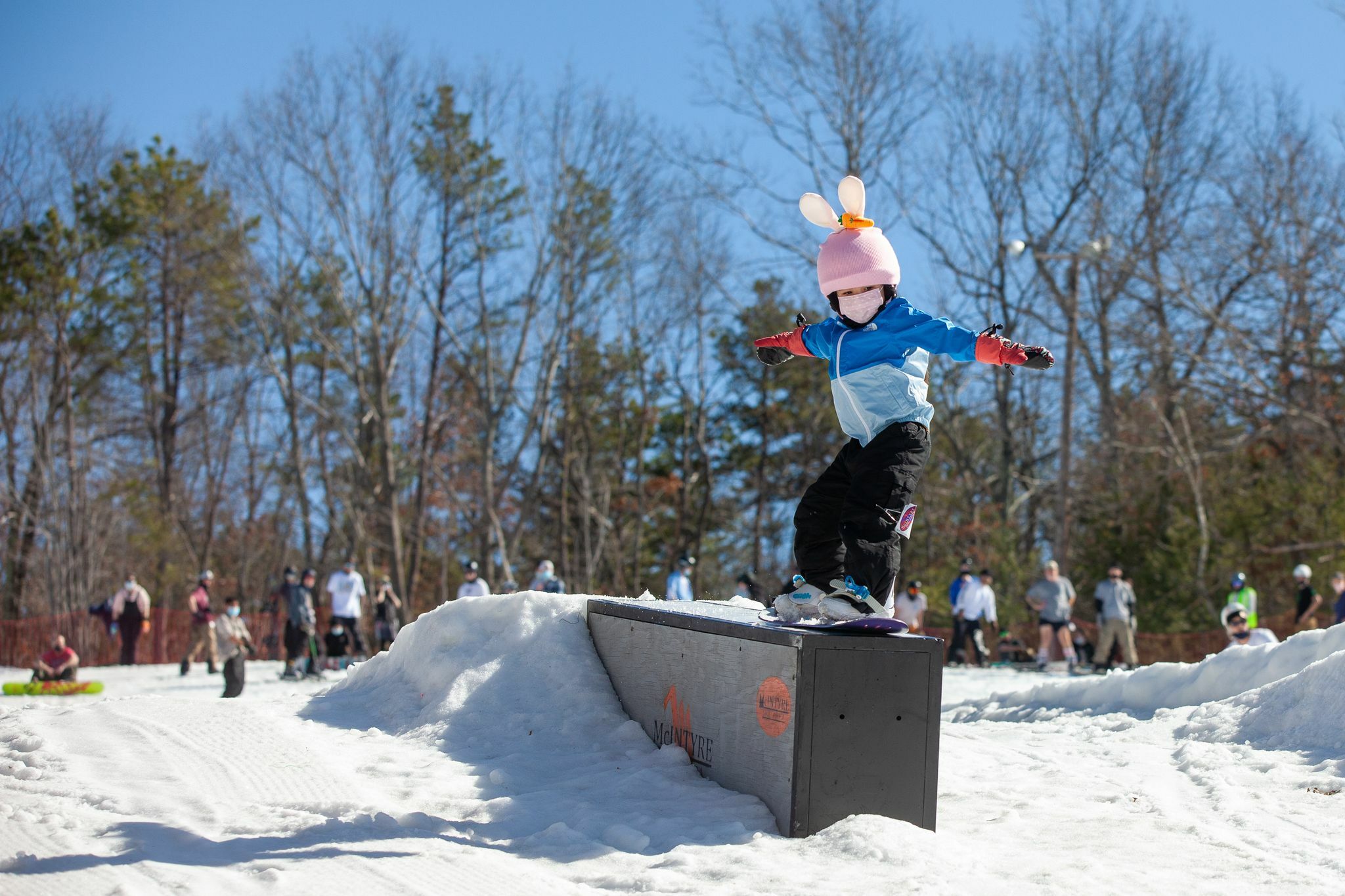 CONWAY, NH – Ski New Hampshire, the trade association representing the state's ski areas, reported that its members successfully welcomed visitors for the Christmas and New Year's holiday week. Despite the challenges faced with shortages of snow and staffing, most resorts noted that business was up for the period compared to last year, with the biggest successes coming midweek during the holiday break.
Kris Blomback, General Manager at Pats Peak, summed it up succinctly: the week was "Booming. Absolutely booming." The Henniker, NH-based ski area saw significant increases in admissions and revenue. Jay Scambio, President and General Manager at Loon Mountain Resort, echoed Blomback's sentiment, noting that skier visits were up significantly over last year, and up even compared to pre-pandemic levels of 2019. Kristen Lodge, Gunstock's Sales & Marketing Director, stated that they limited ticket sales to prevent capacity issues, and sold out many days during the period.
Jessyca Keeler, President of Ski New Hampshire, stated, "Due to the ongoing Covid-19 pandemic, the busy holiday week once again proved that people were looking for opportunities to enjoy themselves in an outdoor environment, where they could have fun and spend time with friends and family."
Aly Moore, Marketing Director at McIntyre Ski Area, said guests chose to spend time outside in their large patio in groups around the fire pits. Moore also reported that they saw an uptick in visitors who had never been skiing or riding but decided to try it as an alternative to an inside activity. At Pats Peak, due to the relatively mild weather for the week, they saw guests stay outside the lodge for eating and breaks.
Overall, many ski areas saw a lift in sales in outlets outside of tickets. Food and beverage sales generally increased as resorts were able to open up more restaurants, bars and cafeterias compared to last winter.
Many resorts, including Ragged Mountain Resort, Gunstock Mountain Resort, and Waterville Valley Resort also saw big gains in rentals and ski school. Thomas Prindle, who handles marketing at King Pine Ski Area and Purity Spring Resort, said that they sold out of rentals and tubing tickets on some of the busy midweek days. Cranmore Mountain Resort's Director of Marketing Becca Deschenes noted that the North Conway ski area also had private and group lessons sold out for most dates for the holiday period, and their 10 lanes of snow tubing sold out in advance for each day.
New Hampshire's cross country ski areas also boasted a strong holiday week. Nate Harvey from Great Glen Trails said that business levels for rentals and lessons were "solid," and that their tubing park and SnowCoach rides were sold out almost every day. Despite relatively low snow levels, Harvey stated, "It was really a great week all considering."
Ellen Chandler, Executive Director at Jackson Ski Touring Foundation, shared this perspective. Jackson saw business levels significantly up over any Christmas to New Year's period in recent history. She stated, "There has not been a lot of natural snow but JacksonXC was extremely fortunate to have enough snow. Over many years JacksonXC employees and volunteers have worked hard to be able to offer vacation-quality skiing on the least amount of snow, and this year we put it to the test with great success."
Despite rising covid-19 cases throughout the country and region, most ski areas didn't suffer major impacts on visitation. The effects of the pandemic - including associated workforce shortages - were more likely to be felt by ski areas who in some cases needed to reduce certain operating hours, shift staff from one outlet to another, or close some of their outlets altogether. Masking continues to be recommended or required indoors for guests at most ski areas, and some areas are changing their policies based upon the constantly changing covid situation.
As ski resorts look forward to the next busy holiday period - the Martin Luther King Jr. Weekend from Jan. 14-17, snowmaking efforts will resume in full force to refresh snow conditions and expand terrain. Keeler continued, "The weather is currently ideal for snowmaking and has been over the past several days. New Hampshire ski areas' snowmakers have been hard at work to prepare for the upcoming weekend and ramping up for the MLK long weekend."
Ski New Hampshire is the statewide association representing 33 alpine and cross-country resorts in New Hampshire. For more information on ski areas, trail conditions, vacation planning, and updated winter events at Ski New Hampshire resorts, visit SkiNH.com. For statewide travel info, go to VisitNH.gov.