September 8, 2022
New Hampshire Ski Resorts Invest Heavily in Facilities, Snowmaking and Equipment for This Winter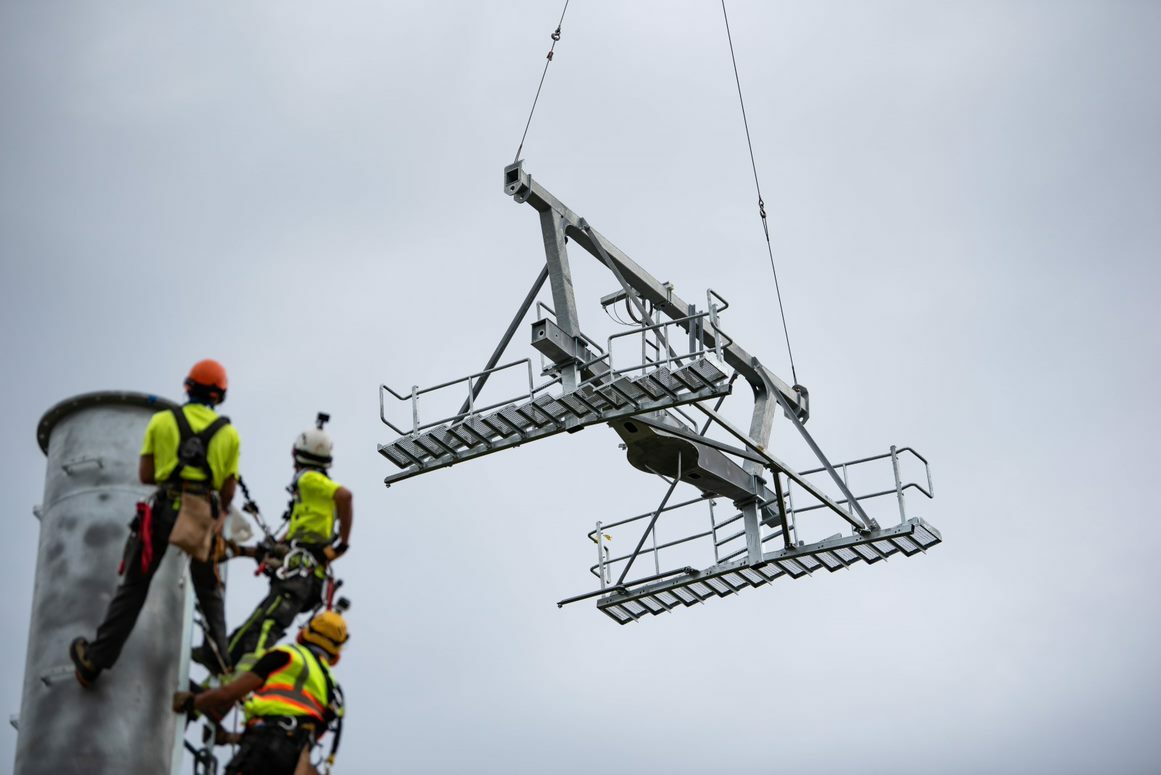 Conway, NH – With summer in the rearview mirror, improvements at New Hampshire ski resorts are well underway. Granite State ski areas are investing millions of dollars in capital improvements. Ski New Hampshire, the statewide association representing 32 alpine and cross-country resorts, reported an impressive compilation of new and improved facilities, lifts and snowmaking upgrades for the upcoming winter.
Jessyca Keeler, President of Ski New Hampshire, stated, "We've seen an impressive amount invested this year into capital improvements that will serve to better the skiing and riding experience for our guests this winter. These investments prove that New Hampshire's ski industry remains competitive and thriving despite the challenges many areas faced over the last several years. We look forward to the start of another winter season in just a few short months."
Attitash Mountain Resort is replacing its East and West Double-Double chair lifts with a single fixed-grip four-person chair. Called the Progression Quad, this new lift will provide access to terrain for all ability levels as well as cutover trails to Bear Peak. Attitash has plans to replace its Summit Triple for the 2023-24 season.
Black Mountain is restoring its historic J-Bar lift, the oldest overhead cable lift in NH installed in 1935. They have plans to utilize it more this season for their learning area. Black is also reconnecting and replacing its snowmaking pipes in the Whitney Field near the J-Bar to improve early-season snowmaking on that side of the mountain. Black is also in the midst of upgrading the control panels for the East Bowl Triple Lift and Platter Pull Surface Lift to help improve the guest experience.
Bretton Woods continues to improve its top-ranked grooming and snowmaking capabilities with a new Pisten Bully 400 and new high-efficiency snowmaking tower guns.
Cranmore just completed their $1 million lift upgrade on the Skimobile Express Quad. This upgrade included a full system modernization with Doppelmayr's most advanced, state-of-the-art safety features. This was one of the first lifts on the East Coast to receive this upgrade.
Cranmore is currently engaged in a $60 million-dollar base area redevelopment plan that will morph the resort into a progressive four-season destination, while introducing a second home community. The new Fairbank Lodge is currently under construction and includes 30,000 square feet of new day lodge facility space, along with 15 residential condominiums. The building is scheduled to be completed by the start of the 2023-24 winter season. Another notable development at Cranmore includes the addition of a new Fairfield Marriott Hotel, currently under construction. The new hotel is owned and operated by Lafrance Hospitality, a proven operator who owns hotels from Florida to the Coast of Maine. The 89-room hotel, located next to the Artist Falls Lodge, is projected to open in Winter of 2022.
Gunstock Mountain Resort's focus has been on snowmaking improvements. They've added 35 new snow guns, 35 new hydrants, new snowmaking pipe for the length of their Cannonball trail, plus a new well at the summit for better water supply for snowmaking. For terrain park fans, a new Piston Bulley 400 Park Groomer will keep their park features ready for action. Other improvements include base lodge air conditioning, 100 new parking spaces, a tubing park welcome building and lighting upgrades for their night skiing operations.
King Pine Ski Area continues to invest in many "behind-the-scenes" capital maintenance projects. This includes improvements to snowmaking with a new waterline pipe to feed the Jack Pine trail; chairlift maintenance including painting of lift terminals and towers; and updating their rental equipment inventory. They celebrate their 60th year of operations this winter.
Loon Mountain Resort is in the process of installing the refurbished Seven Brothers Express Quad for the 2022/23 winter season. They also made major snowmaking upgrades on Sunset, Coolidge Street and Seven Brothers trails this summer. They've added three fully automated fan guns, 52 semi-automated KLIK hydrants and 16 tower guns will be installed as well as the replacement of 5700 feet of pipe and an upgraded nozzle package for 100 existing tower guns. The collective goal is to more efficiently make more snow, in a shorter amount of time.
Pats Peak, also marking 60 years this winter, will be offering a new large outdoor seating area, complete with igloos and heated pavers. Pats Peak continues to increase its snowmaking capabilities by adding energy-efficient fan guns to an arsenal that already gives the mountain 100% snow coverage. They also completed major upgrades to their rental shop to help make renting equipment even more efficient. Pats Peak also added a beautiful stone fireplace in the valley lodge, providing ambiance for special events. Finally, they began construction on a new 12,000-square-foot facility.
Ragged Mountain Resort will greet visitors with improved snowmaking equipment and efficiencies, new paint on the Barnyard Triple chairlift, and a new lift attendant shack at the top of the Summit Six Express chairlift.
Waterville Valley Resort is in the midst of installing their brand new 6-pack, high-speed, bubble chairlift. It is the first chairlift of its kind in the United States and was specifically designed by MND Ropeways for Waterville Valley Resort. It will be open for the 2022-23 season.
Whaleback Mountain, a non-profit ski area, just reached its fundraising goal to update and add more lighting. Known for its night skiing, the new and better lighting will help provide a safer and better experience at the ski area.
Ski New Hampshire is the statewide association representing 32 alpine and cross-country resorts in New Hampshire. For more information on ski areas, trail conditions, vacation planning, and updated winter events at Ski New Hampshire resorts, visit SkiNH.com. For statewide travel info, go to VisitNH.gov.