September 27, 2023
New Hampshire Ski Resorts Make Major Capital Improvements Ahead of 2023-24 Season
New Hampshire Ski Resorts Make Major Capital Improvements Ahead of 2023-24 Season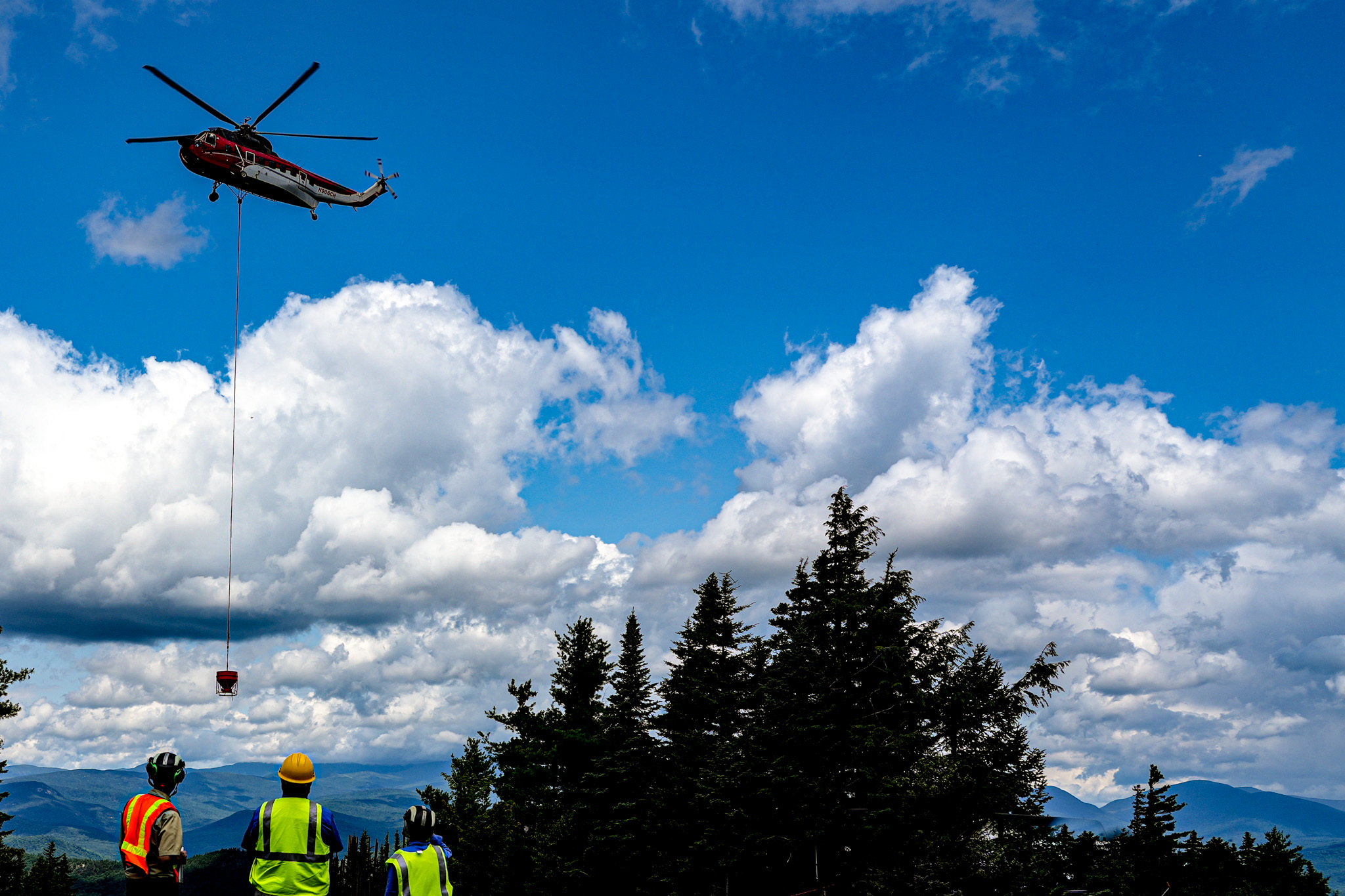 Conway, NH – Many Granite State ski areas have made major capital improvements this year according to Ski New Hampshire, the statewide association representing over 30 alpine and cross-country ski resorts. Projects range from terrain expansions to new lodges and buildings, new lifts, and plenty of upgrades and updates that will enhance the guest experience.
"Every year, New Hampshire's ski areas invest heavily in equipment to increase efficiency and ensure the best possible snow coverage on their trails. This year, many resorts have also spent millions of dollars on the expansion of terrain, the addition of new lifts and buildings, and upgrades to facilities," said Jessyca Keeler, president of Ski New Hampshire. "Whether the investment is in facilities, snowmaking, terrain, or equipment, the goal is always the same: to ensure that skiers and riders have the best possible experience at New Hampshire's ski areas."
Major Infrastructure Projects
Some of the largest capital improvement projects occurred over the spring and summer at Loon Mountain Resort in Lincoln and Cranmore Mountain Resort in North Conway. Loon Mountain Resort has been at work on its South Peak expansion which adds 11 trails and one four-person chairlift to the resort, increasing the area's skiable terrain to over 400 acres, 12 lifts, and a vertical drop of 2,190 feet—making it the longest in New Hampshire. The 30 acres of new terrain includes two tree-skiing areas, which all cater to beginner and intermediate ability levels. Over 60 percent of the terrain being added is green level with the remainder rated More Difficult.
Servicing the expansion will be Timbertown Quad, South Peak's new Doppelmayr Alpenstar 4-CLF chairlift, complete with a loading conveyor. Conveniently located one-half mile from Main Street and a mile more from Interstate 93, this lift will open in December 2023.

Fully automated and semi-automated snowmaking is also being installed at the South Peak expansion area. Six trails will have the snowmaking completed before the upcoming winter season, and the rest of the installation will be finished in the fall of 2024.
Cranmore Mountain Resort will celebrate the opening of Fairbank Lodge in time for the 2023-24 ski season. The brand-new base lodge offers 30,000 square feet and features an expansive food pavilion, accessory and retail ski shops, spacious restrooms and locker rooms, a slopeside bar, two-story lofted residential condominiums, and more. The resort will also soon celebrate the addition of another terrain park which will bring the total to four.
Other improvements made over the last year as part of an ongoing multi-year base area redevelopment include the opening of Artist Falls Lodge (the two-story base lodge for the Mountain Adventure and Tubing Park that also features a new dining space); The Alpine Cafe and Bar; and the opening of Fairfield Inn & Suites by Marriott. This summer Cranmore Mountain Resort also connected its mountain biking and trail system to the newly opened Mt. Washington Valley Rec Path, allowing the resort to become the hub of mountain and leisure biking in the Conway area.
New Lifts, New Buildings, and Lots of Facelifts
In Bartlett, Attitash Mountain Resort is currently on track to meet the commissioning of The Mountaineer in mid-December, allowing the resort to debut the new lift as planned during vacation week in late December. Replacing the Summit Triple, The Mountaineer is a high-speed 4-passenger chairlift that will reduce ride time by more than half, increase uphill capacity, and improve the flow of the Attitash base area. This lift upgrade followed the replacement of the East and West Double-Double with the Progression quad which debuted in the 2022-23 season.
At Mount Sunapee, the South Peak is being revitalized for the 2023-24 season with New Hampshire's only ski-through lighthouse, inspired by Lake Sunapee's three iconic lighthouses plus interactive signage which will create a photo moment to ensure guests remember their day on the mountain for years to come.
The team at Wildcat Mountain is currently replacing the Peabody Pedestrian Bridge which connects the base lodge to the slopes. Additionally, skiers at Wildcat Mountain and sister Vail resorts - Mount Sunapee, Attitash Mountain Resort, and Crotched Mountain Resort - will be able to access the newly launched Mobile Pass & Mobile Lift Ticket, which will allow them to store their Epic Pass or lift ticket on their phone using the new My Epic app.
In Gilford, Gunstock Mountain Resort has recently broken ground on a new Rental Building and Tuning Shop that aims to streamline the rental process for its guests. The new 67x24 foot building will be a sister building to the existing rental building and will be centrally located near the Learning Center. Guests will no longer have to wait in line at the ticket office to receive their rental contract and instead can go straight up the new staircase and pick up their equipment. Additionally, Gunstock Mountain Resort has announced plans to redesign and pave its main parking lot to maximize parking space and improve visibility for visitors.
Waterville Valley Resort added a brand-new 2,000 sq ft deck off its popular Freestyle Lounge. Skiers and riders will now be able to gather around a firepit, enjoy al fresco dining, and listen to live music outdoors, while parents of young kids will be able to lounge on Adirondack chairs as their kids learn to ski on the Pasture Carpets.
At the summit, the resort is building a brand-new, two-story Ski Patrol and sled garage, located adjacent to the top of the Northside chairlift. Additionally, the Snowstar, Waterville's 62-person employee housing building, received a new roof, new windows, and new siding. Builders are now in the process of renovating every single room. These enhancements will benefit the lives of a large portion of Waterville's year-round and seasonal team, including younger employees, international employees, and employees relocating from out of state.
At King Pine Ski Area in East Madison, capital expense purchases for the upcoming season include replacing their "Cubby Tow" rope tow lift with a new Sunkid moving carpet lift and a Prinoth Husky snow groomer that will greatly improve the ability to maintain the Purity Spring Resort XC & Snowshoe Reserve Nordic trail network, as well as groom the Pine Meadows Tubing Park and add more lanes for greater capacity. Other facility improvement projects include new outdoor decks at Milts Lodge and the King Pine Snowsports building as well as expanding the King Pine rental shop, which will also include a rooftop deck off of the main base lodge Evergreen Room for additional outdoor seating.
At Pats Peak Ski Area in Henniker, guests will discover a variety of changes as well. The Alpine Training Center, a hub for over 150 Pats Peak Ski Team Racers, received an interior facelift with all new carpets, furnishings, lighting, bathroom, layout, and energy efficiency upgrades. There's also a brand-new Race Training Area with snowmaking, night lighting for evening training sessions, and the integration of three dedicated training lanes, plus a specially designed smaller trail, nestled in the woods near the training lanes that will cater to intensive drills.
Investments in lighting for night skiing for all have also been made at Pats Peak. The East Wind trail will receive a night lighting facelift with all new poles, wires, and LED lights. Skiers will enjoy improved visibility of their surroundings, enabling them to navigate the slopes with confidence and ease. This lighting system will also reduce power consumption, and minimize the ski area's carbon footprint without compromising the quality of illumination.
NH State-owned Cannon Mountain in Franconia has been busy installing new snowmaking pipe on Upper Ravine, Lower Cannon, and Gremlin trails, as well as making high-efficiency compressor upgrades for enhanced snowmaking. In addition to capital improvements, in-house trail work on the Middle Ravine and Turnpike trails will enhance snowmaking and grooming capabilities while widening the trails to provide more room for skiers and riders.
In preparation for its 50th Anniversary season, Bretton Woods continues its commitment to providing top-ranked snow and grooming with the purchase of 38 HKD Impulse R5 Tower guns and 1 new HKD Fan gun to improve efficiencies around the mountain. A new Pisten Bully 100 was also purchased to improve grooming on the 100km Nordic trail network.
Other ski resorts have been busy this summer replacing lift equipment, like Whaleback Mountain in Enfield, where the team received a new surface lift, and Ragged Mountain Resort in Danbury where staff are replacing the Barnyard Triple haul rope. For more information about ski resorts in New Hampshire, visit SkiNH.com.
###
Ski New Hampshire is the statewide association representing 30+ alpine and cross-country resorts in New Hampshire. For more information on ski areas, trail conditions, vacation planning, and updated events at Ski New Hampshire resorts, visit SkiNH.com. For statewide travel info, go to VisitNH.gov.
Ski NH | PO Box 521 | Conway, NH 03818 | 603-745-9396 | www.SkiNH.com