June 17, 2022
Ski New Hampshire Presents Awards at Its 2022 Annual Meeting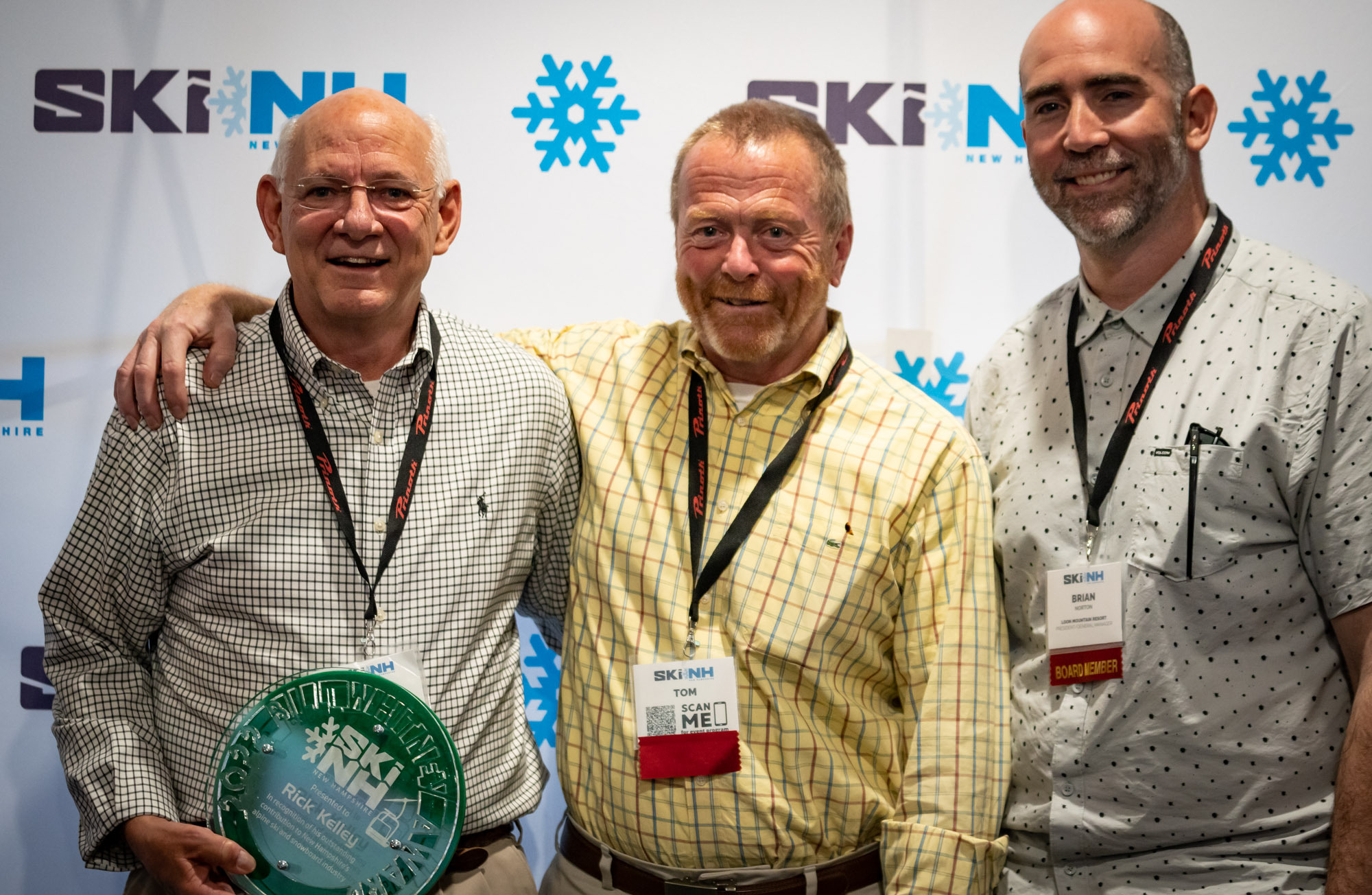 WATERVILLE VALLEY, NH – New Hampshire's ski area trade association, Ski New Hampshire, recognized individuals who have made important contributions to the state's snowsports industry at their annual meeting which took place June 7 at Waterville Valley Resort.
Jessyca Keeler, President of Ski New Hampshire, stated, "We were so pleased to be able to gather in person for our annual event - complete with educational seminars and a trade show - for the first time since 2019. The last couple of winters have been both challenging and rewarding for ski areas throughout the state. This year's event was a great opportunity to get together to celebrate our accomplishments and these individuals who have contributed so much to New Hampshire's ski industry."
Ski New Hampshire announced the winners of their annual Chandler-McLane Government Service Award; NextGen Award; Merrill Award; and Whitney Award.
The Chandler-McLane Government Service Award is presented to a public official in state government who has worked collaboratively with Ski NH members on issues, laws, or regulations important to NH ski areas. This year's recipient was Taylor Caswell, Commissioner of the New Hampshire Department of Business and Economic Affairs, the agency dedicated to enhancing the economic vitality of the state. Appointed in 2017 as the first commissioner of the BEA, Caswell serves as NH's chief economic and marketing official.
Ski New Hampshire cited Caswell's role in leading the state's COVID response and recovery efforts including business reopening standards. He worked with Ski New Hampshire and its members to develop a careful set of management practices that gave the skiing public and public health officials the confidence that outdoor recreation could safely be offered during the pandemic. Caswell also spearheaded new economic development and tourism marketing programs over the last couple of years that were designed to support long-term growth for the travel and tourism industry and that continue to evolve as the state emerges from the pandemic.
The NextGen Award salutes young professionals who are currently working at a Ski New Hampshire member resort, are under the age of 40, and are making an impact in the state's ski industry and exemplifying innovative leadership.
The award was presented to Ian Cullison, Adventure Center Director at Waterville Valley Resort, who has demonstrated an ability to work across multiple operations at the ski area and produce impressive results in all of them. His award nomination cited his contribution to that resort's development of a robust uphill policy, his snow management and grooming capabilities in managing Waterville's Nordic trails, as well as his sales acumen. "Retail sales in the Adventure Center have increased by double due to Ian's unique understanding and ability. He possesses an understanding of the products that we sell, and the guest needs for equipment that enhances their experience," stated Tim Smith, GM at Waterville Valley.
The Merrill Award was established to recognize an individual who has made an outstanding contribution to cross country skiing in the state. The award was presented to Marty Hall. Marty Hall boldly led the U.S. cross-country program onto the international stage in the 1970s and it quickly paid off with the country's first (and until 2018, only) Olympic medal in the sport, Bill Koch's silver in 1976.
Over the next four decades, Hall would push and prod in every way possible, from training to racing, grooming to trail design, equipment to waxing and marketing to spectator-friendly race formats. A member of the US Ski & Snowboard Hall of Fame, Hall was the first full-time cross country skiing coach for the US Ski team. Hall became the leading cross-country coach with the U.S. Eastern Amateur Skiing Association in the late 1960s. He was soon the pied piper of New England nordic skiing, rigging up a track sled to bring game-changing grooming to the region's race trails. After leading U.S. efforts through the 1970s, Hall went on to serve as chief coach of Cross Country Canada.
The Whitney Award is given to individuals who have made an outstanding contribution to the ski and snowboard industry in New Hampshire. This year's award was presented to Rick Kelley, arguably Loon's most impactful leader since Sherman Adams. Kelley retired from Boyne Resorts in 2021. His career included 40 years at Loon Mountain Resort, where he began in 1977 as a snowmaker and worked his way through several roles, becoming the resort's general manager in 1998. Kelley was selected as COO, Eastern operations for Boyne Resorts in 2017.
Kelley's colleagues remarked that his constant pursuit of excellence made him a force in the ski industry, and a mentor to many at Loon and at Boyne Resorts. His accomplishments included his work in lobbying the NH State House to amend the state's ski statute to include snowboarding and tubing.
During his tenure, he oversaw the long-awaited expansion to Loon's South Mountain. His ability to focus on lift network and snowmaking projects made Loon a leader in the region in both areas. He is also known for his service to numerous local and state non-profits.
Ski New Hampshire is the statewide association representing 32 alpine and cross-country resorts in New Hampshire. For more information on Ski New Hampshire resorts, visit SkiNH.com. For statewide travel info, go to VisitNH.gov.
Download high-resolution photos of award winners here.