Cross Country Skiing in New Hampshire

< Back To Stories
Cross Country Skiing in New Hampshire
January 27, 2023
In the winter, the snow-covered hills and mountains in New Hampshire beckon cross country (XC) skiing families, couples, and individuals aged five to 95. Each year thousands of recreational XC skiers make the sojourn to the Granite State for the beauty and serenity of winter outdoor recreation and rewarding wellness associated with cross country skiing.
New Hampshire's XC ski areas range from packed trails heading out from a barn that offer stunning views to top notch facilities with trails maintained by snowcats and covered by snowmaking. Many resorts offer equipment rentals, clinics and lessons, and retail goods for what cross country skiers need to get started. Some XC ski resorts have guided tours and luxurious overnight accommodations. Here is a sampling of XC ski resorts in New Hampshire:
Across the grounds of the historic Omni Mount Washington Resort in the White Mountain National Forest, the Bretton Woods Nordic Center is one of the largest cross country ski areas on the East Coast. The 100 kilometer trail network crosses open fields, meanders through woods of spruce and fir, passes beaver ponds and mountain streams, and traverses open hardwood stands. There are many outstanding vistas of Mt. Washington from the trails for taking photos.
There is classical and skate skiing as well as snowshoeing on trails prepared with state-of-the-art grooming machines. Visit on-trail destinations including a warming cabin on Porcupine Trail and the lift-served Mount Stickney Cabin.
At the base of the Mt. Washington Auto Road on the Pinkham Notch side you'll discover the magnificent setting of Great Glen Trails Outdoor Center. With 45 kilometers of cross country skiing, snowshoeing plus an old fashioned tubing hill, Great Glen offers everything needed for a full day of winter fun.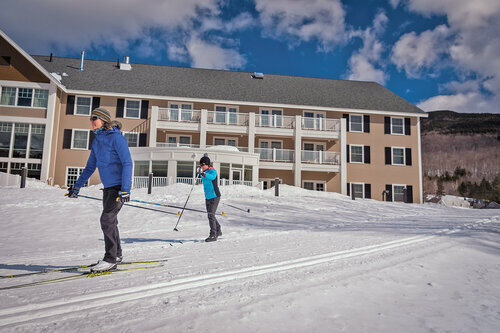 Great Glen's scenic trail system offers an enjoyable combination of well-protected spruce and fir-lined trails plus wide open options offering breathtaking views into the Great Gulf Wilderness and surrounding peaks of the Northern Presidential range. Two warming huts are available throughout the network, including the scenic Great Angel Cabin with its stunning views into the Great Gulf.
With an average base elevation of 1,600 feet, plus one of the few Nordic snowmaking systems in the region, elevation really does make a difference at Great Glen, often allowing earlier skiing plus a deeper snow base throughout the season.
For even more adventure, guests of all ages will enjoy a comfortable winter tour on the 9-passenger Mt. Washington SnowCoach. This van with snow treads transports guests (weather permitting) to treeline (approximately 4,200 feet) on Mt. Washington into a sub-arctic world for a truly unforgettable adventure.
Great Glen is affiliated with the Glen House, which has 68 guestrooms that are reflective of the simplicity of Shaker design while its lobby embraces the history of the Mt. Washington Auto Road. Great Glen skiers can stop and visit the Notch Grille pub inside the Glen House, which has various seating options and a full service bar with drinks, full meals or lighter fare, a fireplace, and breathtaking views of Mount Washington out the back windows.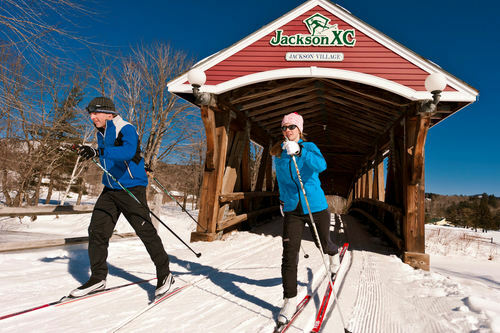 Jackson XC, on Rte. 16A in Jackson, NH, is a bucket list entry for Nordic skiers whether the preference is quiet striding through New England forests or all out skate skiing on an international race course. This 100 kilometer trail network through forest and farmland is woven into the fabric of this classic New England ski village with a heritage of skier hospitality. The JacksonXC ski trails are suitable for all ability levels and there are miles of dedicated snowshoe trails. This is the quintessential Nordic or xc skiing experience with the covered bridge, white steepled church, brookside trails, and the accompanying New England village with all of the trappings. JacksonXC operates under a Special-Use Permit with the White Mountain National Forest and with the cooperation of 76 private landowners and the town of Jackson. There's a courtesy patrol to assist skiers on the trails if needed and a rescue service staff is trained and certified with the National Ski Patrol System. The maintained xc ski trails in and about the village of Jackson pass many country inns that are spaced throughout the region and the trails often lead right to the door of local inns, shops, and restaurants.
The Adventure Center at Waterville Valley has approximately 70 km of trails, which are groomed and tracked for skating and classic skiing and is known for its wide trails, which are dependably well groomed. Waterville is nestled in a high valley within a ring of mountains in the White Mountain National Forest. The town is a planned community where everything is at a skier's fingertips. There are the great trails, a fitness center, indoor skating rink, and the Town Square (where the Adventure Center is located), which features a variety of restaurants and shops. But most significantly, Waterville Valley and its services and amenities make it great for families.
Waterville has two separate trail networks including the South End and the North End, which can be accessed by skis or by driving. Snowshoers are welcome to trek along the edge of the trails. Trails lead to easily accessible points of wonder including Greeley Ponds, Snow's Mountain, Cascade Brook, and the Big Pines. Ask for assistance at the Adventure Center to reach these destinations.
Mt. Washington Valley Ski Touring & Snowshoe Center has more than 45 km of inn-to-inn trails, plus ski school and rentals. Trails connect the towns of Intervale, Kearsarge and North Conway offering views of the Saco River and Mt. Washington. Explore trails winding through riverside hayfields, mountainside spruce and hemlock forests offering a diverse selection of terrain for all abilities from easy rolling hills to more challenging intermediate and back country trails. Guided star-gazing tours and animal-tracking clinics are offered. In February, trailside businesses prepare a variety of goodies from hundreds of pounds of chocolate! Chocoholics xc ski or snowshoe the trails to enjoy chocolate prepared every way imaginable returning year after year to enjoy the Chocolate Festival, now in its 33rd year!
Gunstock Mountain Resort Outdoor Center is in Gilford, NH. The 27 km of trails are groomed for classic and skate skiing. Lessons and equipment rentals for xc ski, snowshoe, and fat biking are available at the Outdoor Center which also employs snowmaking to guarantee skiing as much as possible. Evening snowshoe ridge tour hikes are offered at night with a chairlift ride up the mountain and use of headlamps and snowshoes. Gunstock also offers a unique experience for XC skiers to accompany their dog to enjoy skiing out on the trails. Skijoring as it is known, is a hands-free skiing experience with Gunstock Outdoor Center XC supplying the tools and techniques needed to have a great day with your furry friend.
On the west side of New Hampshire is the Dartmouth Cross-Country Ski Center, located at Dartmouth College in Hanover, NH. The area maintains 30 km of groomed trails for classic and skate skiing in 3 areas at Oak Hill/Storrs Pond, Garipay Field and the former Dartmouth Golf Course. Trail tickets to these trails can be purchased in the Dartmouth Outing Club House near Occum Pond, which is on Rope Ferry Road or at the Oak Hill Ticket Booth and Warming Hut, which is located in the Oak Hill parking lot. There is ice skating on Occom Pond when it is frozen and the center has rental equipment including XC skis, snowshoes and ice skates.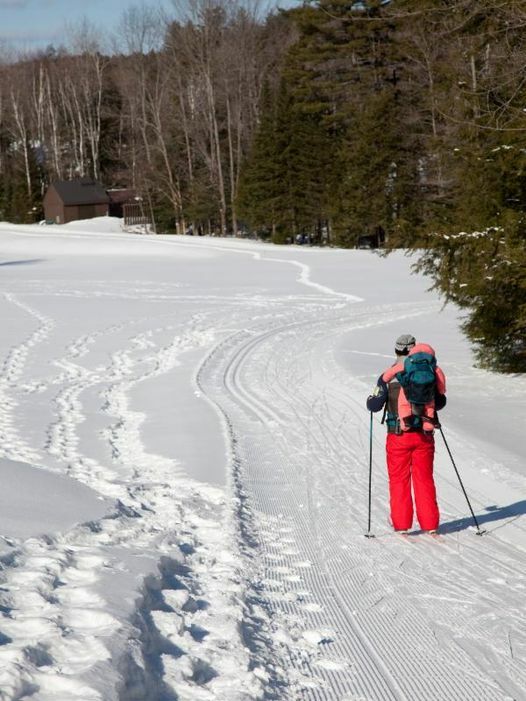 Eastman Cross Country Center in Grantham, NH is on a golf course and residential community convenient to Route 89 at Exit 13. Situated on a golf course, Eastman has 36 km of groomed trails with 16 km of skate skiing and it is a Rossignol XC demo center. There are lessons and xc ski and snowshoe equipment rentals available. Destinations include the Troll House and John's Glen Hut. Starting in January on Tuesdays the Snowshoe and Soup includes soup and bread after the group snowshoe outing. After an outing in the clean, brisk air of Eastman's hills, enjoy an après ski bite or brew at Forbes Tavern also located at The Center at Eastman.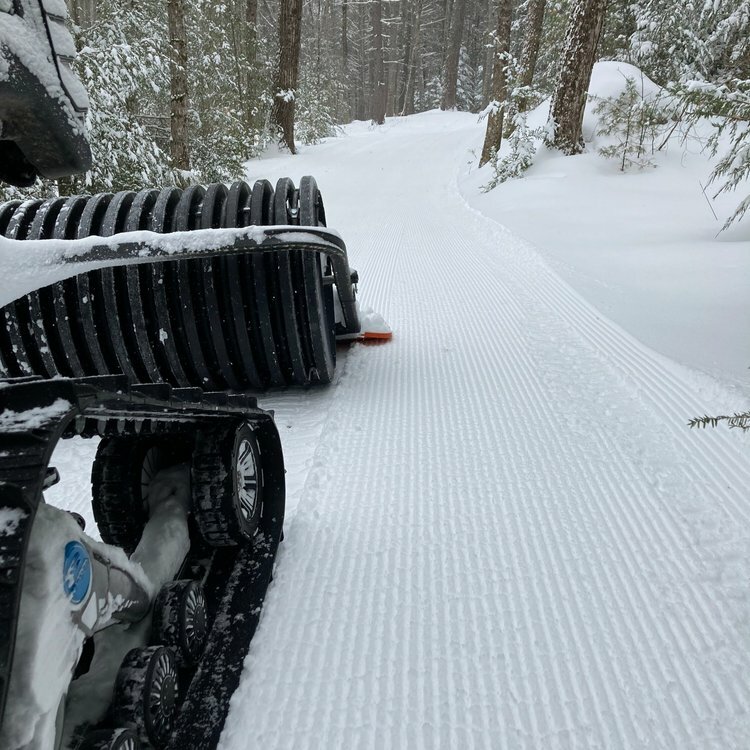 Nordic Skier Wolfeboro XC is a XC ski trail network run by a nonprofit ski club now celebrating 50 years on the eastern shore of Lake Winnipesaukee in Wolfeboro, NH. Get trail passes at 47 North Main Street in Wolfeboro. There are 30 km of groomed trails for classic and skate skiing and 35 km of snowshoe trails. Nordic Skier has one of the best retail outlets for XC skiers including rental gear for XC skiing, snowshoeing, and ice skating. The Nordic Skier focuses on trail grooming and has plenty of testimony to verify the quality of their trails. They've acquired a low-snow grooming machine to offer the best trail conditions with the least amount of snow cover.
New Hampshire has more cross country ski areas across the state and for contact information at the SkiNH cross country ski areas click https://www.skinh.com/resorts