The Granite State Ski Cup

< Back To Stories
The Granite State Ski Cup
February 7, 2018
What is the Granite State Ski Cup?
The Granite State Ski Cup, which was held at Cranmore Mountain Resort on January 28-29, invited New Hampshire's legislators and other local dignitaries to North Conway for some time on the slopes.
In years past, Ski New Hampshire would host legislative ski days around the state, as well as a Governor's Cup race. The inaugural Granite State Ski Cup aimed to combine and resurrect these two events as a way to showcase New Hampshire's official state sport and one of the top winter tourism economic drivers. Ski New Hampshire put the event together along Cranmore and Governor Chris Sununu, also known to those in the industry as the "Skiing Governor."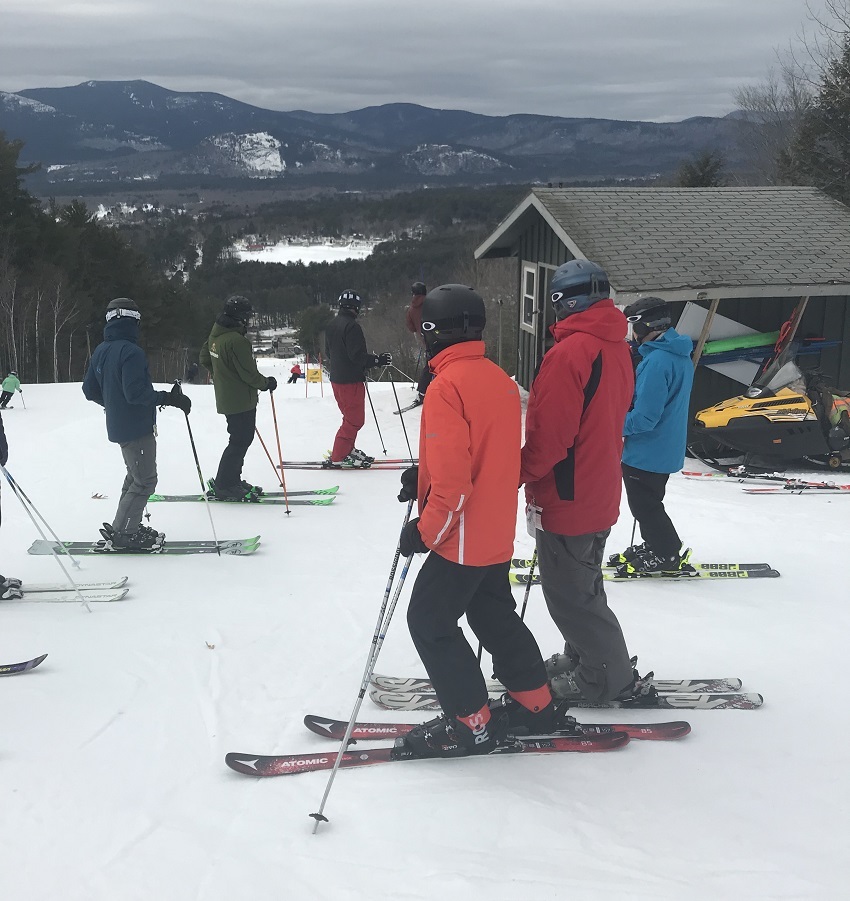 Governor Sununu (red jacket) and his son, Calvin (orange jacket), preparing for the race.
So, what went down?
Legislators and other important state and local officials were invited to Cranmore Mountain Resort on Sunday, January 28 for a Welcome Reception at Zip's Pub, which included tours on the snow groomers too!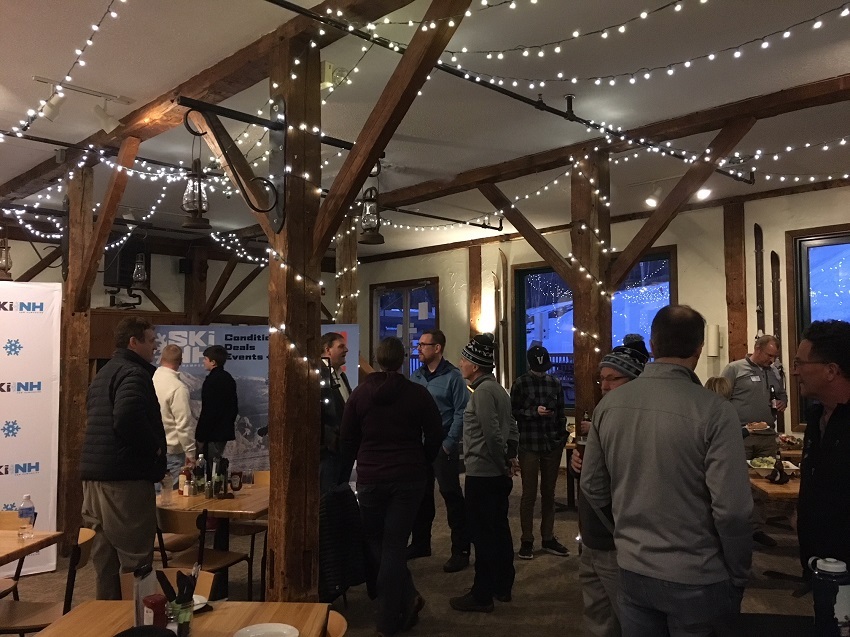 Welcome reception held in Zip's Pub.
Then on Monday, January 29, legislators and ski area general managers from Cranmore, Waterville Valley Resort, Cannon Mountain, Gunstock Mountain Resort, King Pine at Purity Spring Resort, and Pats Peak set out for a few first tracks runs before hitting the race course, which was a dual slalom.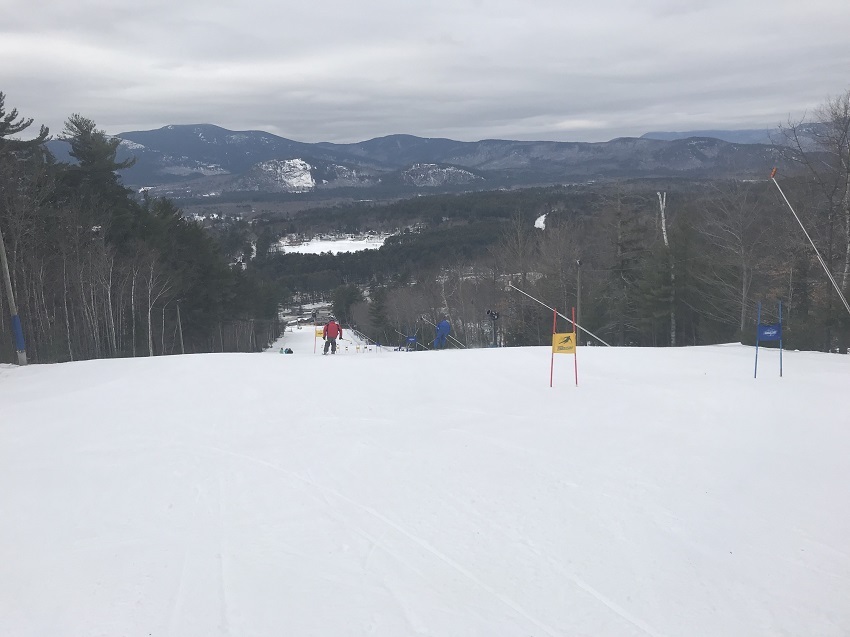 Racers ready!
The fastest elected official overall was Governor Chris Sununu, the fastest snowboarding elected official was Representative David Binford (who is also a Ragged Mountain Resort employee), and the fastest skiing elected official after the governor was Representative Frank Sapareto. The Governor was presented with a special award, crafted by KoolStewl in Franconia.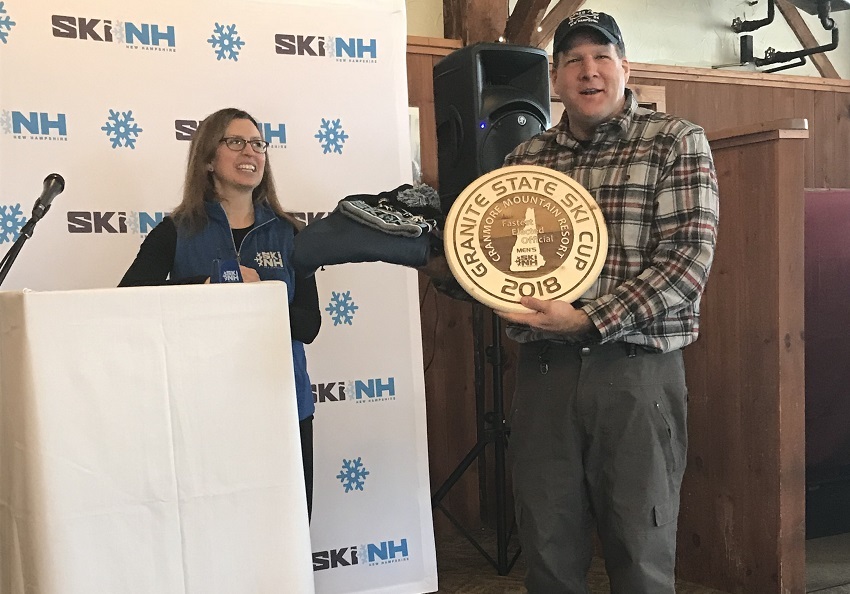 Executive Director Jessyca Keeler presents Governor Sununu with the Fastest Elected Official Award.
After the race, participants enjoyed a tour of Cranmore's new Kearsarge Brook Condominiums. During lunch, the attendees heard closing remarks from Ben Wilcox, president and general manager of Cranmore Mountain Resort, as well as Governor Chris Sununu. Both took the opportunity to talk about the importance of skiing to New Hampshire's economy, and the many improvements that have been made to the ski areas over the years.
Lunch closed with a raffle of generously donated prizes from Ski New Hampshire's partners at The North Face, Elan Skis, and Bern Unlimited, as well as a selection of prizes from its ski area members too.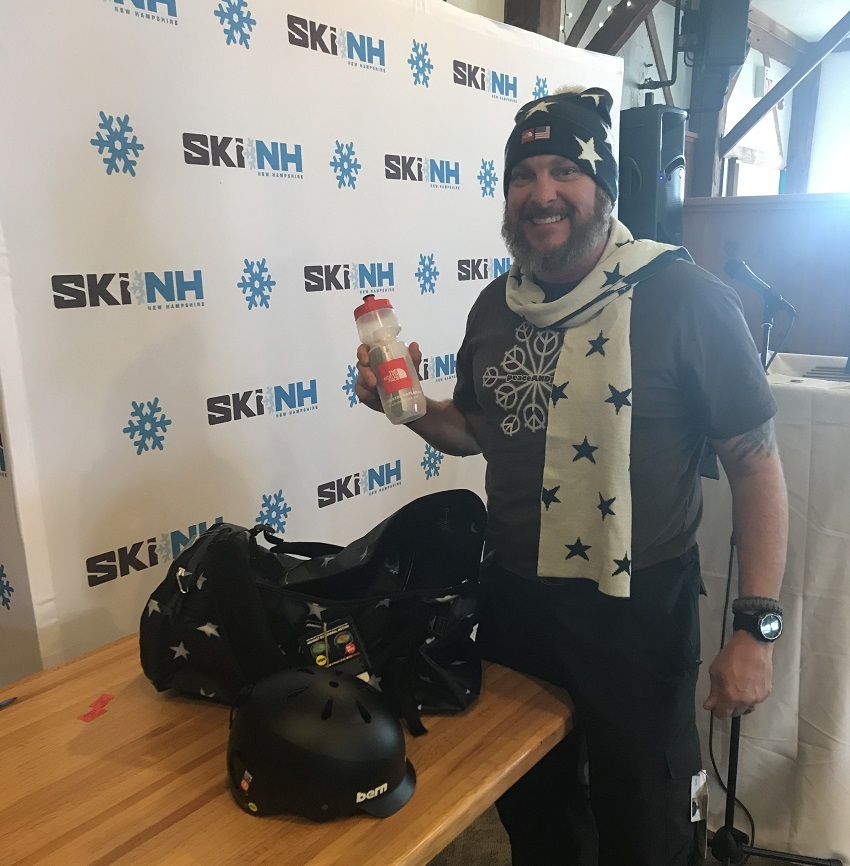 Representative David Binford shows off his prizes from The North Face and Bern Unlimited.
Where do we go from here?
The goal for the Granite State Ski Cup is to host the event around the state year after year to continue to expose our legislative representatives to all that the mountains have to offer, and also to invite them to embrace the state's official sport and the lifestyle that so many flock to New Hampshire to enjoy.