How I Learned to Ski

< Back To Stories
How I Learned to Ski
November 30, 2017
It's never too late to take up skiing. Just ask our contributor, whose story describes his discovery of our favorite sport.
My first 18 winters in New Hampshire were the B.S. years. Before Skiing. It's better for my sanity if I don't pause here to add up the miles of exercise I didn't get, the hundreds of spectacular views I didn't see, the thousands of feet of vertical—wait, millions— Good grief!—I missed out on. No, this is a happy story: I turned 40. I showed up for a free ski lesson wearing a borrowed pair of snow pants. And I swooned.
My mother would have loved for me to ski when I was a kid. She'd been a downhill racer as a teenager in Europe. But I was a city kid (shhh, New York), and the one time she and a friend took me to a ski area, things didn't go well. I was 5. And—this will surprise parents of 5-year-olds, I'm sure—rather than throw myself into the challenge with determination and gusto, I collapsed in a tantrum of fear.
By the time I was 20, I had recovered enough to try cross-country skiing. I actually broke a ski. It was in another country, so I may be mistaken, but I didn't have to pay for the repair. They asked me not to come back.
My daughter is the hero of this story. She learned to ski at 5—show off—and had a great old time whenever she and her mom went to a mountain. I also had fun, staying home with her younger brother, but her smiles when she returned began to suggest I was missing something. (Note to my mother: Apparently, you should have loaded me up with chicken tenders and hot chocolate when I was 5. I'd have wanted to go back every weekend.)
Who knows why we make fateful decisions? Was there something magical about turning 40? Was it simply the Ski New Hampshire promo I saw for a free first lesson (equipment and lift ticket included)? I know I didn't want to keep missing out on my daughter's enjoyment. Anyway, I made a reservation at Pats Peak in Henniker. And I showed up.
First Impressions
Pats is a terrific place to learn. I can think of at least five people working there my first day whose kindness, patience, or expertise helped me have a positive experience. This despite the fact that the first task was signing the standard safety waiver repeated on the back of every lift ticket at every ski area. (Short version: Skiing is dangerous. You may die. You're not allowed to sue us for your stupidity.)
I am particularly grateful to a young woman from Peru who was spending her summer (our winter) handing out rental skis. Clomping over in my just-rented boots, in which I stood at least a foot taller than she, I asked for skis, and—without the slightest trace of mockery or condescension—she presented me with a pair that I now know were perfect for my daughter when she was 10. I asked if I needed a helmet. She smiled and said, in the nicest way possible, something like, not where you're going today.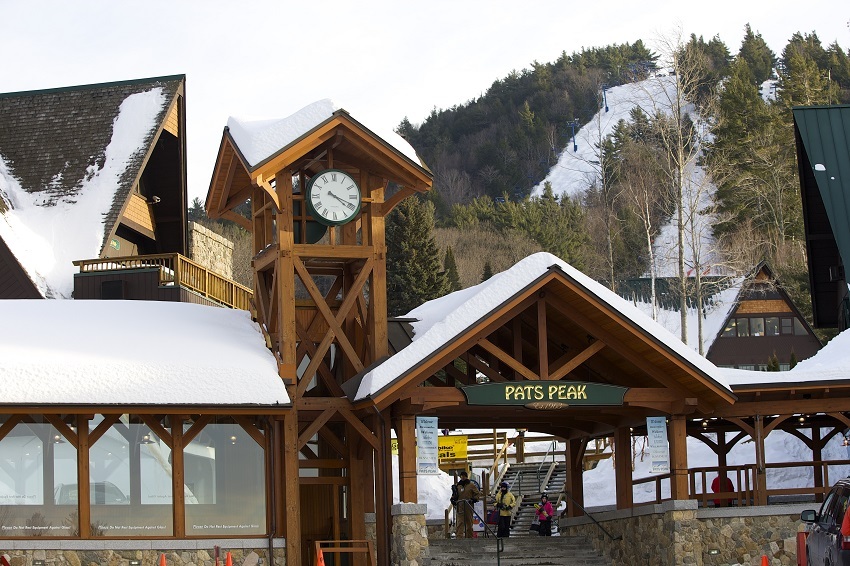 It took 20 minutes for my life to change. That sounds like the start of a story about a tragic accident. Any movements in this scene, however, were calm and cautious. I was in a group of maybe eight people, half of them small children. We put one boot into a ski and walked just a few feet sideways up the slightest of inclines (the pre-bunny slope). A short glide, a slight turn, the second ski—I don't remember the exact progression. But I will never forget my utter surprise as I came to realize that a) I had not fallen, and b) I might actually be able to do this.
I grew up learning the lore of baseball, including all the earnest prose about how you can find life lessons in the fabric of the game. Well, I still love to play and coach baseball, but you want life metaphors? Stand at the top of a ski run you're considering trying for the first time.
I remember an early lift ride at Pats peak in which I looked at the pitch of a very mild intermediate slope and felt certain I would never seek to ski something so steep. I was delighted with the discovery of skiing on the beginner runs and couldn't imagine they would ever be insufficiently challenging.
What a naif I was that January, at the tender age of 40. By February, I was skiing the way a teenage boy drives: Go fast first and then worry about whether you're in control.
Last winter my kids and I made our first trip out West, joining friends in Big Sky, Montana. On our living room wall, I have giant photos of them each skiing down fields of snow that seem to stretch to infinity. The sky is an unpolluted blue. There is not another skier in sight. But I was there. On my own two skis. Able to take the pictures myself.
Republished from the 2016-17 issue of Ski NH Magazine, with permission from The Boston Globe, who originally published this story on November 7, 2015.