< Back To Stories
Into the Woods
February 17, 2018
The silence surrounds me. Save for my beating heart and an increasing thunder pulsing in my head, there is a stillness in the white-blanketed woods. Soft snow falls from a bending branch, waking me from my trance. My grin is wider than the forest pathway in front of me as I take a break in the freshly fallen, shin-deep powder. I perk up as hoots and hollers of childlike laughter break the silence. It's coming from my adult posse as we reunite in this pocket of winter pleasure. We laugh. We smile. We rest for a brief spell. Then, with knowing nods, we move on for more. We are in the glades.
Skiing in the trees is, for many, as much a part of the ski experience as groomed trails and terrain parks. Off the beaten path, in the lift-accessed world of natural snow, tight turns rule as you navigate the birches, pines, and ash.
In the world of glade skiing, there's a sense of freedom you won't find on the "corduroy highway" of alpine skiing. Eagle-eyed skiers and riders choose their own lines over snow-covered downed trees, stumps, and rocks, and even over stomach-churning cliffs, creating, in a sense, their own trails.
Open for Business
New Hampshire ski areas embrace the forested frolic of glade skiing, offering options for all levels of abilities. The woods may look to be in their natural state, but during the summer, maintenance crews came in to do some brush-cutting, stump removal, and branch pruning to weed out potential hazards. Generally, the more rugged the terrain, the more snow is needed before glades areas are open to the public. Gentler glades tend to open with lesser snowfalls.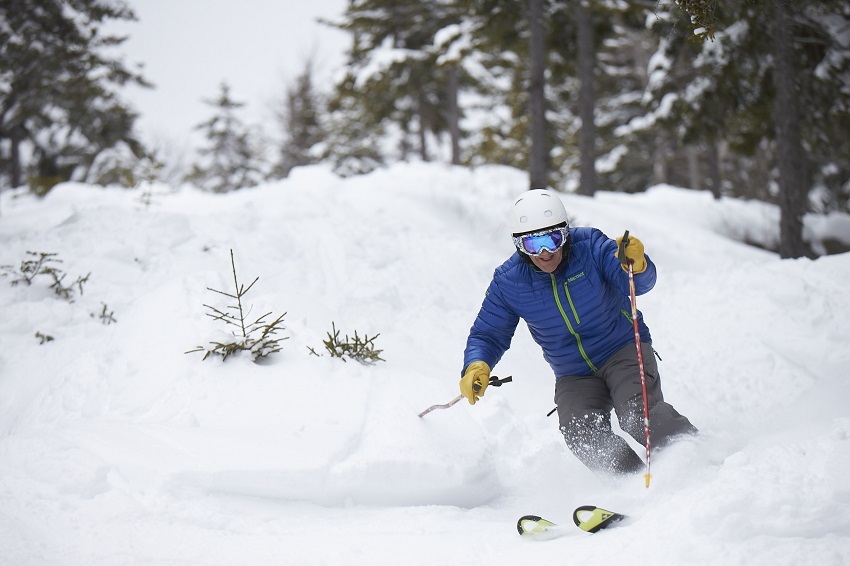 New Hampshire resorts also offer a number of options for skiers, from baby glades for tentative first turns to double black diamond plunges for those with excellent skills (and, often, false bravado too).
Glades present a way for a resort like Bretton Woods, known for its immaculate grooming, to get gnarly. Across from mighty Mount Washington, Bretton Woods' tree skiing has seen steady growth since West Mountain opened in late 1999.
Bretton Woods offers moderate birch glades wide enough for skiers to twist and shout: Black Forest, Enchanted Bear, Wild West, and Cherry Mountain Slide are among them. Too tepid? Then West Mountain's John Graves and Maple Woods and Rosebrook Canyon's Roz's and Inferno offer tighter lines that the advanced crowd will appreciate.
At Mount Sunapee, with its towering vistas to the glistening lake of the same name, the goods in the woods add another dimension for advanced skiers and riders.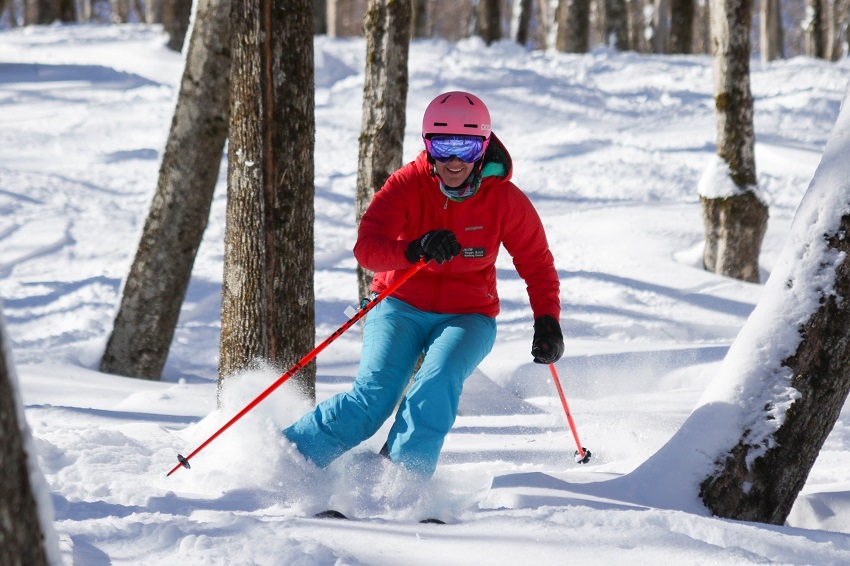 But that doesn't mean beginners can't play; they can—in South Peak's Paradise Glades, home to Sunapee's learning center. Step up to Beck Brook and Ridge glades on the main mountain. If you've got the tools, challenge yourself on Sunrise and Cataract, both with glorious morning sun, and Summit for advanced skiers and riders.
Many glade-goers may have second thoughts once in the trees. That's okay. Some of the glades have several ways in and out, so you can ski in a section that suits you. Keep that in mind at Mount Sunapee. It's a little easier using the lower entrances on Beck Brook and Ridge glades. There's also an upper bailout on Cataract to avoid the steeper lower section.
Danbury's Ragged Mountain is a forested playground with expert Double Take and Triple Take from the Spear Mountain summit plus biting Gobblers Nob and Tree Hugger off groomed Cardigan. Ride the six-pack Summit Express to Rags to Riches, a natural bowl. Newbies should try Moose Alley, accessed from Lower Ridge.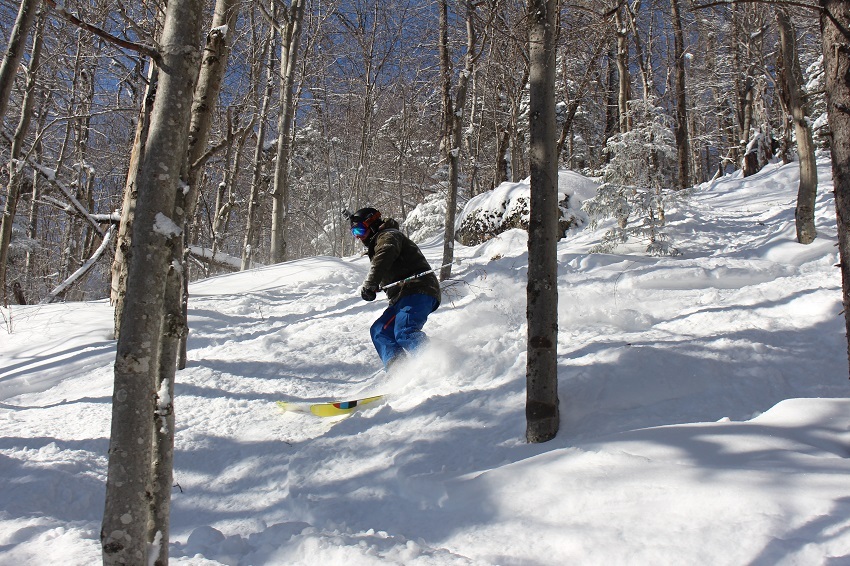 Storied and wintry Cannon Mountain in Franconia Notch is one of those places where duct-tape-loving locals and loyal season passholders earn bragging rights. They know exactly where those narrow entryways are—the ones that get them into the tight-fisted upper mountain glades, and that are easily missed by occasional skiers.
Many of those glades were cut illegally over the years with intentionally hidden entrances. Eventually, Cannon embraced them, put them on the map, and marked them with little yellow glade signs signaling the way into gladed areas like Lost Boys Glade off Upper Cannon. After a snow dump, the lovingly narrow black diamond Kinsman Glade is a diehard's paradise.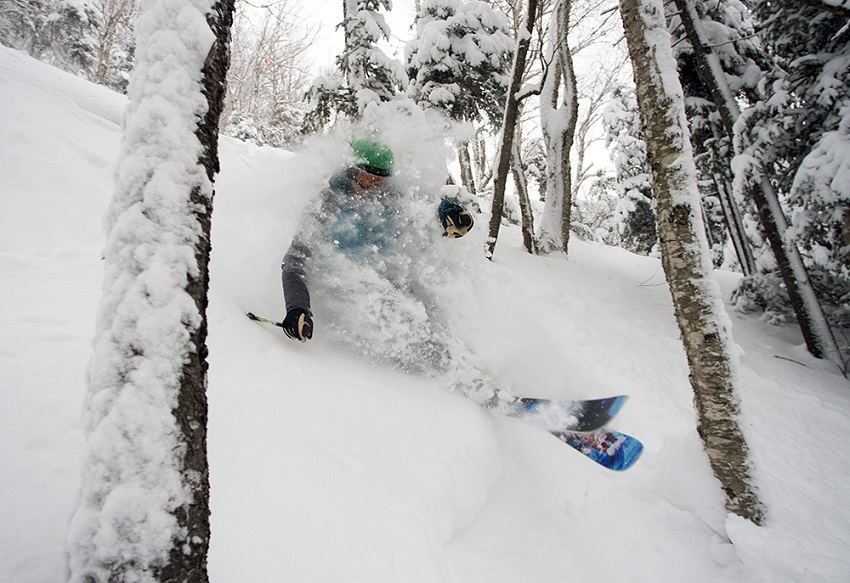 But Cannon's also got some easier glades at secluded Tuckerbrook, the mountain's family-centric area. And there's some nice elbow room in Robin's Nest while short Turnpike Glade is a place for fun with a gentle pitch.
Advice to Remember
Before heading out, remember that glades aren't places to travel alone. I can dole out accolades for all kinds of glade destinations, but keep in mind that there are times when the forest contains bare spots, slick patches, and undulating wave-like rhythm sections that can quickly turn a good day into something wicked bad. So remember:
It's a good idea to venture into the glades with at least one partner.
Make sure there's a charged cell phone in someone's pocket.
Absolutely pay attention to ropes and boundary signs.
Ski schools often provide lessons and guides for the glades, so that's something to consider.
Another nugget worth knowing: don't look at the trees, but rather through them to choose your line as you ski—and get those turns ready.
Ready to venture into the glades this winter? Excellent. Find them by looking on a trail map, but don't forget to ask around. Guest services, ski patrollers, and instructors will gladly point you to New Hampshire favorites. And when you finally get in there, be sure to stop and listen for the laughter. It could be coming for you.
Originally published in the 2016-17 issue of Ski NH Magazine.