Tips to Start Kids Cross-Country Skiing

< Back To Stories
Tips to Start Kids Cross-Country Skiing
February 27, 2018
You might save money by giving your kids outdated and hand-me-down cross country ski equipment, a heavy nylon parka, and a fur-lined cap with earflaps, but this gear will increase your kids' chance of having a rotten time while cross-country (XC) skiing.
Improper equipment may be too heavy, cause blisters, and expose kids to frostbite. Too much or too heavy ski clothing (often used by alpine skiers when they go XC skiing) will lead to a common but misguided perspective: that is, XC skiing is tiring and too much work. Dress correctly and get equipped properly and XC skiing can be a blast.
Poorly equipped kids won't be able to glide, turn, or stop as quickly as their appropriately outfitted friends. They may have trouble getting the skis to grip while going up hills. How much fun is that?
Use the tips in this article to get properly fitted equipment and clothing for children, whether it's brand-new or previously used. As they grow out of gear and clothing, pass them on to another child but make sure that it is appropriately sized for the one receiving the hand-me-down. Some shops have buy-back, trade-in, or long-term rental plans for children's gear, so check with ski shops in your area.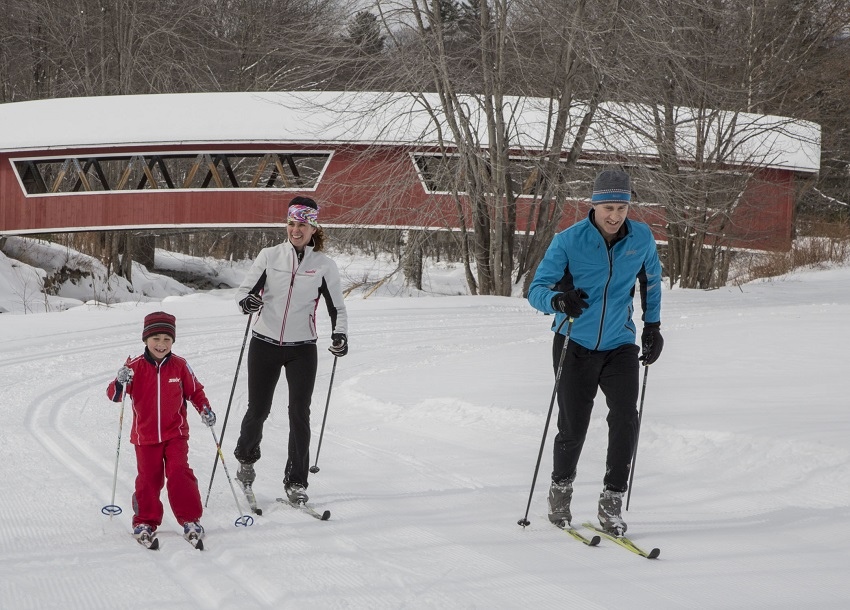 The Right Gear
Waxless skis are great for kids and even toddlers can enjoy a stroll on wide plastic XC skis that they can strap on to their regular snow boots. Make sure the boots fit well and feel as comfortable as a pair of sneakers. Sizing XC skis has changed so you can have short skis that are both very maneuverable and provide long glides. Use the paper test to see if a particular pair of skis supports your weight effectively for both gripping on the uphills and gliding on the flat terrain or downhills. Here's how to do it: On a hard floor surface, you should be able to slide a piece of paper under the skis when you stand evenly weighted on both of the ski centers. When all of your weight is applied to one ski at a time, the paper should be unable to slide.
Light layers of clothing should help you feel comfortable and you can always remove a layer if you get too hot while going uphills. A lightweight synthetic base layer of long underwear helps to keep you dry and transport any perspiration away. A middle layer that provides insulation such as a shirt or sweater with a jacket shell on the outer layer works great. Don't forget a headband or light hat and a pair of appropriate gloves (not alpine ski gloves) that are made for movement.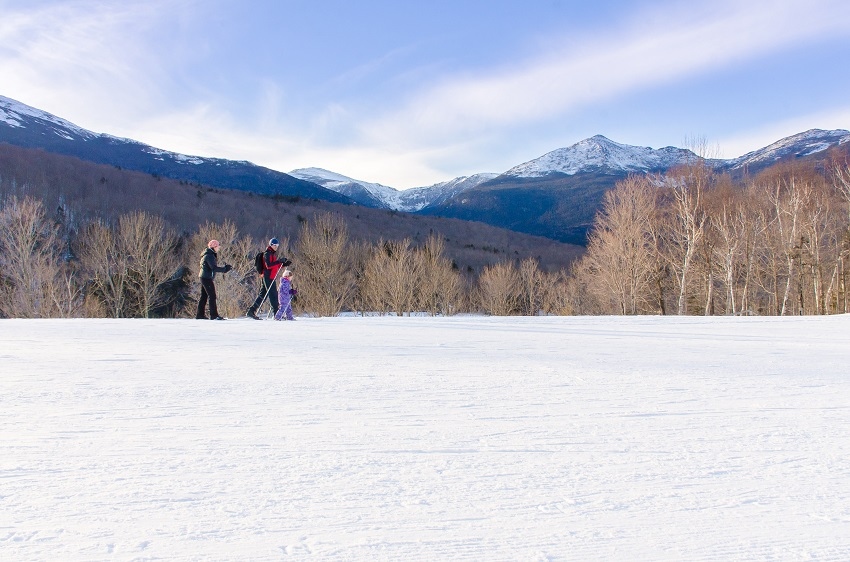 Have Fun
Make sure XC skiing is fun for the child; this means avoiding strenuous hills and scary out-of-control downhill runs. The key is for your child to have a positive experience on the first few XC ski outings. It may be easier (and a good decision) to have your child begin with a qualified instructor in a class with other kids. After the lesson, join him or her for an easy family XC ski to a nearby destination.
XC ski areas often have special terrain or incentives for kids. Trail Tracker is a scavenger hunt at Great Glen Trails in Gorham, NH, which is a big hit for kids to track down cartoon animals out on the trails. When they find the animated creatures, they stamp a card and upon return to the lodge they get a treat.
Jackson Ski Touring Center has a skills development program for 3rd -8th graders on Sundays in January including video technique assessment and hot chocolate, fun, and games. The Monday afternoon Junior Meisters time trials in Jackson are open to youth of all ages for individual start times on three different course length options between 3:00-4:30 PM through March 5th.
Bring some chocolate treats, talk about animal tracks, and encourage your child. Make it about more than skiing, and it can give you many years of quality family time and memories cross-country skiing with your children.
This piece was originally published by XCSkiResorts.com, a detailed resource on cross-country resort destination information, and news for offers, events, programs, and recommendation lists. Roger Lohr of Lebanon, NH, is the co-founder and editor-in-chief of XCSkiResorts.com.