Waterville Valley - A Resort Rich in Ski History

< Back To Stories
Waterville Valley - A Resort Rich in Ski History
February 11, 2019
Waterville Valley Resort has a history of commitment to world-class events and athletes that roots back to the 1930s, which has made it a destination for ski racing and freestyle events. This year, Waterville Valley will welcome back the U.S. Freestyle Championships March 16-17th and the U.S. Alpine Championships March 23rd-26th, 2019.

So how did Waterville Valley get its start? Thirty years prior to Waterville Valley's foundation, the Black and Blue Trail Smashers (BBTS) Ski Club was founded in 1934. The hearty souls were so committed that they climbed Mt. Tecumseh with saws, axes, and shovels to clear narrow ski runs by hand. Today, BBTS is one of the oldest ski clubs in the USA.
Fast forward to the summer of 1964 when former Olympic ski racer, Tom Corcoran, came to the White Mountains to establish a ski area of his own. One of Corcoran's old acquaintances, Sel Hannah of Sno- Engineering Inc. based out of Franconia, NH had done a feasibility study for Mt. Tecumseh. The two arranged a flyover Waterville Valley and Corcoran instantly knew that he had found his resort.
"When we flew over Waterville Valley, all the bells went off in my mind. It was exactly what I was looking for. From the air, it was obvious how it should be laid out and I could see its potential for great skiing." -Tom Corcoran, Waterville Valley Resort Founder
Just two years later, in December of 1966, Waterville Valley opened for its first season. The following year, Corcoran and John Fry created the first ametuer junior racing program. In 1968 eight ski areas signed on to take part in the inaugural season for NASTAR racing, with the first pacesetter trials taking place at Waterville Valley.

In 1969 Waterville Valley formed the first freestyle instruction program, making the resort the birthplace of freestyle skiing. The following year, Corcoran and Doug Pfeiffer, organized the first National Open Championships of Freestyle Skiing on the Sunnyside trails.
In 1971, legendary freestyle skier, Wayne Wong, traveled to Waterville Valley from Vancouver at the age of 21 on $200 of sponsorship money to compete in the World Cup Freestyle Finals on True Grit. Following that event, Wong became Waterville Valley's head freestyle coach in 1973 and still has close ties to the resort. By the 1990s, Waterville Valley fully embraced the sport of freestyle skiing by building the second freestyle terrain park in the North East.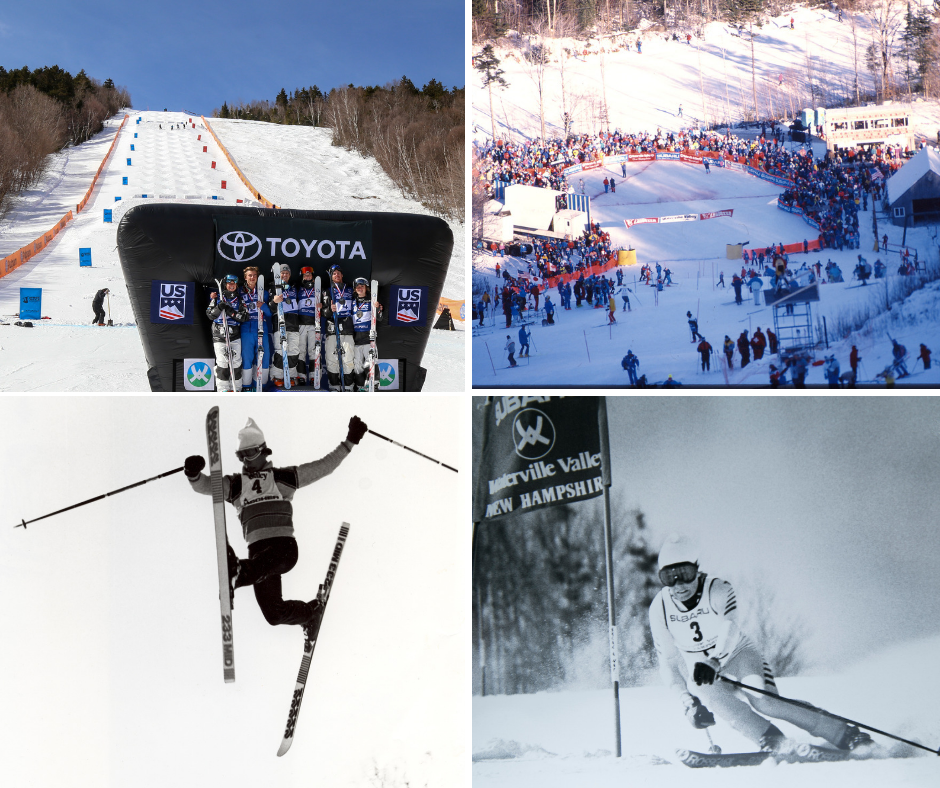 Decades later Waterville Valley has produced a number of Olympians, including 2010 gold medalist Hannah Kearny, who trained at BBTS. This year Waterville Valley will continue on the legacy of world-class events by bringing the nation's top freestyle and alpine skiers to the slopes of Mt. Tecumseh for the returning U.S. Freestyle Championships and U.S. Alpine National Championships.
The freestyle moguls competition will take place March 16th-17th, 2019 which will include mogul and dual mogul events. Brad Wilson will look to defend both the men's mogul and dual mogul titles. Women's mogul champion Keaton McCargo retired after the 2018 season, but Tess Johnson (Vail, Colo.) is the reigning champion in dual moguls.
"Waterville Valley Resort was proud to host the 2018 U.S. Freestyle Championships last March. It was a great event showcasing amazing athletes. The entire Waterville Valley community is thrilled to be hosting the U.S. Freestyle Championships again this season. As the birthplace of freestyle skiing, this event holds a special place in everyone's hearts," said Matt Hesser, Senior Director of Marketing for Waterville Valley Resort.
Directly following the U.S. Freestyle Championships will be the U.S. Alpine National Championships March 23-26th, 2019 where the nation's top ski racers will descend upon Tommy's World Cup, named after the late Tom Corcoran, for slalom, giant slalom, and the new parallel slalom events. Waterville Valley has hosted 11 World Cup Races, but this will be the biggest race that the resort has hosted since the White Circus visited in 1991 when Julie Parisien won the World Cup giant slalom.
"We are looking forward to bringing elite ski racing back to Waterville Valley Resort," said U.S. Ski & Snowboard Chief of Systems and Operations Calum Clark. "The membership and fan base in the east is vast and extremely engaged with the sport, and our athletes love competing in front of them. Julie Parisien had a commanding and inspiring World Cup victory there in 1991, and U.S. Ski & Snowboard is excited to bring some of the best ski racers in the world back to the resort in hopes that they too will inspire the next generation."
Waterville Valley Resort shares the enthusiasm for hosting the event. "This will be the biggest race that Waterville Valley Resort has hosted since our last World Cup in 1991. The whole team is excited to be bringing elite racing back to Waterville Valley," says Waterville Valley Resort's President and General Manager, Tim Smith. "I know our guests and pass holders won't want to miss the opportunity to see these athletes in action."
About the Author
Stacie has been skiing in the Northeast since she was 4 years old and has been working in the ski industry for the past two seasons at Sunday River and Sugarloaf. Stacie is now the Communications Manager for Waterville Valley Resort and resides in Plymouth. When she's not skiing you can find her hiking in the White Mountain, climbing, or relaxing by a lake or river.