Moguls & Dual Moguls World Cup Returns to Waterville Valley, New Hampshire

< Back To Stories
Moguls & Dual Moguls World Cup Returns to Waterville Valley, New Hampshire
September 15, 2023
Waterville Valley Resort has been chosen to host the upcoming 2024 FIS World Cup this winter! As the birthplace of Freestyle skiing, Waterville will welcome the world's top international mogul skiers to the White Mountains.
Waterville Valley Resort opened the first freestyle instruction program in the United States in 1969. And now, fifty-four years later, Waterville will host the highest level of freestyle competition in men's and women's dual moguls events.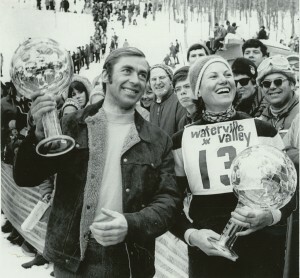 This prestigious event marks Waterville's first time hosting a FIS Freestyle World Cup event. But this isn't their first rodeo. Since the ski resort was founded in 1966, Waterville has hosted 11 FIS Alpine World Cup races, 4 U.S. Freestyle National Championships, 1 U.S. Alpine Championship, plus numerous Freeski and snowboard U.S. Revolution Tours.
The 2024 World Cup is planned to take place on Jan. 26-27, 2024, on Lower Bobby's Run, a beloved double-black diamond run named after the late Robert F. Kennedy who frequently visited Waterville Valley. At 246 meters long with a pitch of 28 degrees, the eastern-facing course is perfect for mogul-style events, especially considering the expansive viewing area towards the bottom of the run. Fans, spectators, and fellow athletes will be able to cheer on these incredible freestyle skiers while taking in spectacular views of the course.
Hosting such a renowned competition is an honor, and Waterville does not take this honor lightly. Waterville's team has already begun to prepare for this world-class event, planning several aspects of event logistics such as lodging for athletes, volunteer recruitment, and expanding snowmaking efforts on Lower Bobby's Run.
"Waterville Valley Resort is honored to host the upcoming 2024 and 2025 World Cup and continue our partnership with U.S. Ski & Snowboard," said Tim Smith, President and General Manager of Waterville Valley Resort. "Having a World Cup event back in New Hampshire after the resort last hosted a World Cup race in 1991 is extremely exciting. We are thrilled to host this world-class freestyle competition alongside Deer Valley, and we've already begun preparing to deliver an unforgettable experience for everyone involved. The Waterville team looks forward to welcoming the world's top freestyle athletes as we bring together passionate fans and a community of people who share a love for the sport."
Visit Waterville.com to learn more about this year's World Cup event.