Make the Mountain Your Office!
If you enjoy the mountain environment (maybe you are a skier yourself!) and are interested in how a ski area runs and what it takes to get open for those first-chair guests, then a career in Mountain Operations might be the path for you.
When we talk about "Mountain Operations," we are referring to all things that make the mountain operate as a ski area, which include: Snowmaking, Grooming, Terrain Park development, Lift Operations, Facilities Maintenance, Parking/Traffic Control, and Lift Mechanics and Electricians. You can learn more about each of these jobs from the information below. Current job openings are also available at SkiNH.com/Careers and are also linked at the bottom of this page.
Snowmaking

Snowmakers are the ones who make winter happen. They are ready to make snow the second the temperature falls within the optimal range for their snow guns. Snowmaking often takes place at night (but not always), when the temperatures and humidity are most consistent. Snowmakers get to experience the mountain in ways most people never will, such as late at night, first thing in the morning, and they see the most incredible sunrises and sunsets. Snowmakers often work with a small team, and will need to ensure that the systems are ready to go and set up to maximize the placement of the snow you're making. At some ski areas, the process is very hands-on, whereas at others more and more automation is allowing those areas to efficiently use the systems when the temperature and humidity is ideal for snowmaking.
Grooming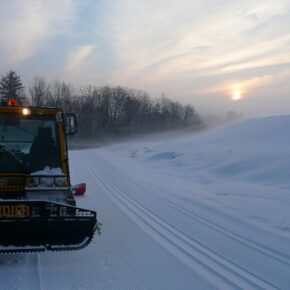 Creating the perfect snow surface is both an art and a science and couldn't be done without a groomer. For decades, grooming was one of the most sought after job in in the ski industry, and it continues to be one of the most interesting jobs on the mountain. As as groomer, you get to know every steep, deep, edge, and trail. The story behind corduroy starts with the snowmakers and finishes with the groomer. Snowmakers and grooming operators work together to produce a safe, fun, and consistent snow surface for you to ski on. After snowmakers finish making sufficient snow piles the groomers let the water drain before they push out the piles. Why? Well, because wet snow freezes and makes a surface icy, which is harsh on a grooming machine, and, lets face it, ice is not that fun to ski on. Groomers and snowmakers are the experts when it comes to making the surfaces we all ski on. But, don't be fooled, you don't need years of experience to become a groomer.
Most ski areas, including cross country ski areas, are looking for additional staff to help groom their ski areas. The first step to becoming a groomer is asking to go for a ride along. Many groomer operators are happy to have someone who is eager to learn go along for the ride. So, what are you waiting for? Reach out to your home mountain and find out what it takes to become a groomer.

Terrain Park Crew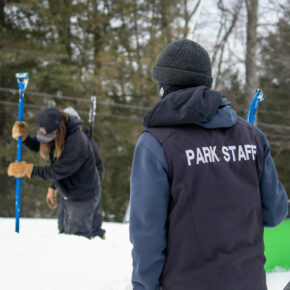 Working in the terrain park is where several ski area employees get their foot in the door. They start off working in an area of the mountain where they like to play and learn to love the industry! The terrain park crew is responsible for maintaining and assisting in construction, inspection and testing of terrain park features. They are also responsible for installing, maintaining, and monitoring the safety materials including; signage, boundaries, entrances & exits, and feature markers. When needed, they also aid ski patrol, which is a great way to get your foot in the door if you are interested in becoming a ski patroller, or if you are interested in pursuing a career in the medical field. Being a part of the terrain park crew is not only fun, but it is a great place to start if you are interested in furthering your career in the ski industry.
Lift Operations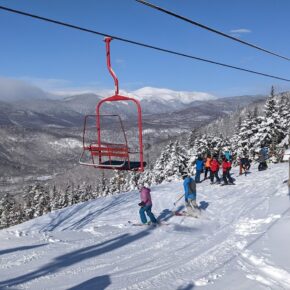 The view from your office as a lift operator is nothing short of spectacular. Lift operators have the unique opportunity to meet everyone on the mountain. They get to know the regulars, they help first timers on and off the lift, they even get to help other departments such as ski school and ski patrol. As a lift operator you are one of the first people on the mountain. Lift attendants assist the lift mechanics in performing daily safety checks to clear the lift to open for the day. Lift operators constantly keep their eyes on skiers and riders loading the lift, and are trained to act quickly in the event of a misload, which is key to people's safety. As a lift operator you get to meet people from all over the world, and you get to help them up the mountain. On a powder day, the lift operators are the hero's who let the public know the lift is open. Many people who work as lift mechanics start their career as lift operators. You can learn more about becoming a lift mechanic by clicking here.

Base Area and Facilities Maintenance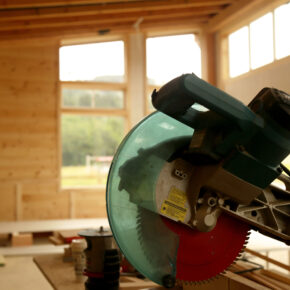 Base area and facilities maintenance can refer to multiple positions at the base of the mountain. These opportunities can include maintaining the buildings as a handy person, housekeeper, plow driver, or parking and traffic control. These positions have room to grow where you can help work on major projects, such as redeveloping the base area and other buildings, redesigning the parking lot, or redesigning the floor plan of the lodge. These opportunities are for those new to working to those interested in careers in management. This is a great place to start if you love the mountains and you are good with your hands.

Parking and Traffic Control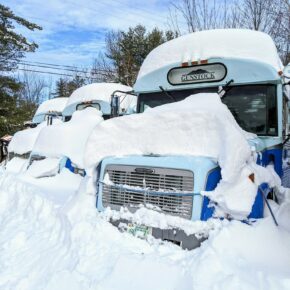 The first thing people do when the come to a NH ski resort is park! Most in a vehicle, although some arrive in busses. Either way, having a parking system that limits traffic congestion, allows people to drop others in their party, their skis, and other gear is the first step in whether or not people have an enjoyable experience at your resort that day. Beyond that, are your parking lots safe for people to walk in? Do you need shuttles to get people from parking lots to the base lodges? There is a lot that goes into the logistics of parking and shuttling at a ski area, and people who are good at communicating with guests, solving problems, and planning logistics are great for working in this aspect of mountain operations.

Mechanics & Electricians
People in the trades are always needed at ski areas. Mechanics are needed to work on the groomer fleet, snowmobiles, or other ski area vehicles. There are opportunities for mechanics all over the mountain, including working on chair and surface lifts. Check out our Lift Operations page for more information on becoming a lift mechanic.
Electricians are also needed throughout the resort, whether its for lift mechanics, lodges, hotels, and other spaces. If you are not a certified electrician but know enough to be safe and you want to learn more, most of our ski areas will train you!

What does it take to work in one of these areas?
You can start your ski industry career in any of these areas, and even gain experience in more than one if you're interested and possibly grow into a position of overseeing any or all of the various mountain ops departments, and potentially even go on to become general managers of ski areas. In most cases, just a willingness to show up and learn will get you on the right path. A love of being outside - in the cold (during the winter months), in the heat (during the summer months), and everything in between - is also a big plus.
Find Your Future NOW!
Click the links below to find current job openings at Ski NH resorts.

Abenaki Ski Area - Wolfeboro
Attitash Mountain Resort - Bartlett
Black Mountain - Jackson
Bretton Woods - Bretton Woods
Cannon Mountain - Franconia
Cranmore Mountain Resort - North Conway
Crotched Mountain - Francestown
Dartmouth Skiway - Lyme Center
Great Glen Trails - Gorham
Gunstock Mountain Resort - Gilford
King Pine - East Madison
Loon Mountain Resort - Lincoln
McIntyre Ski Area - Manchester
Mount Sunapee - Newbury
Pats Peak - Henniker
Purity Spring XC & Snowshoe Reserve - East Madison
Ragged Mountain Resort - Danbury
Waterville Valley Resort - Waterville Valley
Wildcat Mountain - Gorham

.
Career Development - Mountain Operations