February 16, 2022
New Hampshire Ski Areas Offer a Host of Activities On and Off Slope
Resorts Ready to Welcome Visitors During Presidents' Week Vacation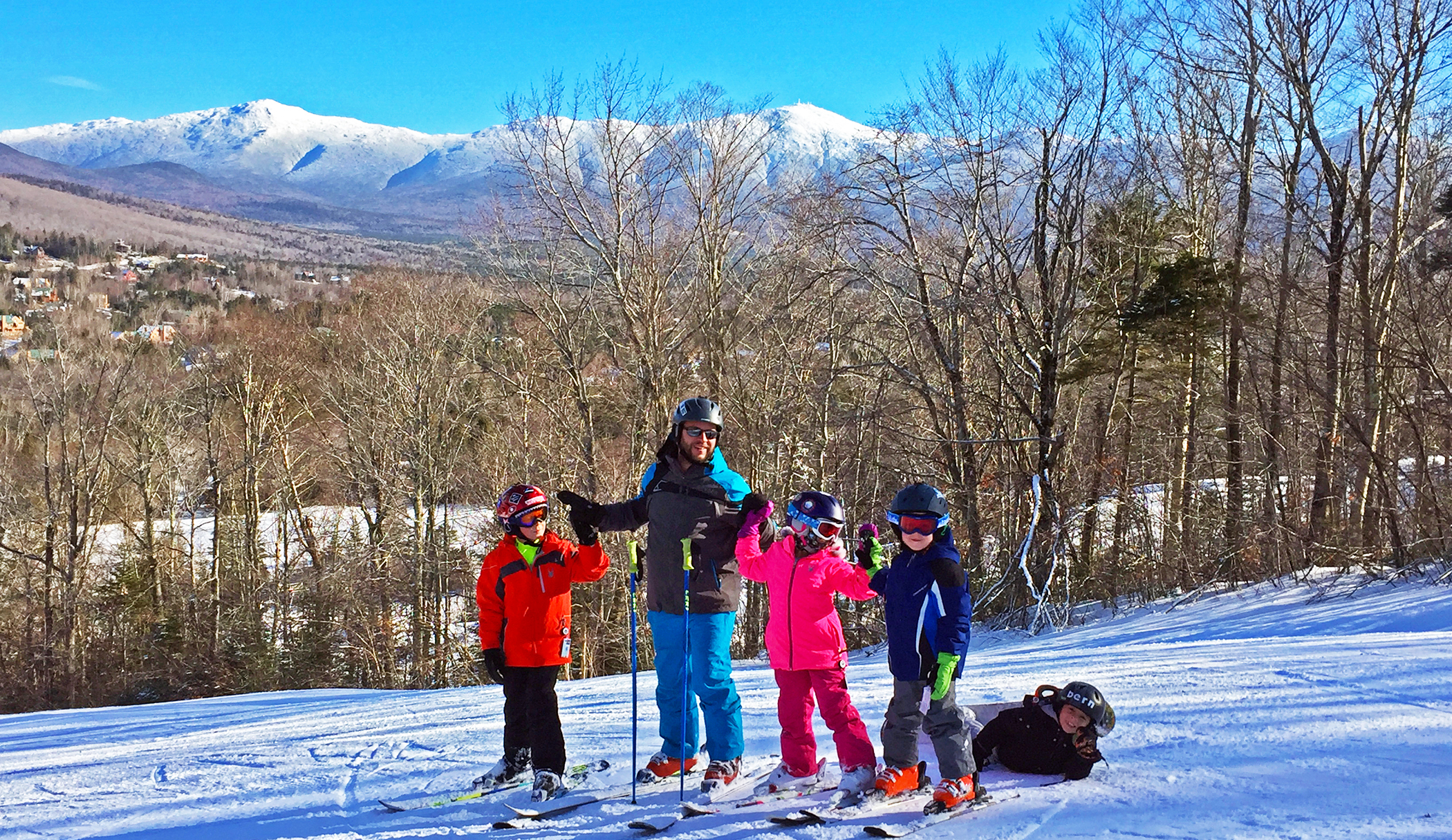 CONWAY, NH – With plentiful snowfall and outdoor activities in high demand this winter, New Hampshire ski areas are poised for a fun and active Presidents' Week vacation period. Ski New Hampshire's President Jessyca Keeler recently shared these family-friendly vacation ideas that will keep the entire crew entertained on and off the slopes. Keeler shares tips for planning a winter getaway, getting the most for your money and finding alternative activities to supplement skiing.
Insider Tips for Vacation Week
While Presidents' Week is typically the busiest time for New Hampshire ski areas, a little advance planning can help anyone make the most of their time on the slopes. Keeler recommends the following:
Buy lift tickets and rentals online in advance - With several resorts capping ticket sales or often selling out of ski rentals, you will want to reserve in advance as much as possible. Jennifer Huntoon from Bretton Woods encourages advanced online booking as far out as your plans allow, and advanced ski ticket and activity purchase to guarantee that you can enjoy your chosen activity without risking a sell-out day - and leaving you out in the cold. Visit individual resort websites to research your destination and what's available (see www.SkiNH.com for a complete listing of NH resorts).
Take a lesson - Improve your turns and get a fast track on lift lines when you reserve a lesson (private or group). Reserve ahead of time to save your spot.
Ski at night - Night skiing is generally less busy than daytime on the slopes. Try affordable night skiing at McIntyre Ski Area who offers One Great Rate of $48 on select Saturdays from 3:30pm-9pm for the following: skiing/snowboarding, rentals, snowtubing, lesson tips and hot cocoa. Go to SkiNH.com's Night Skiing page to learn more.
Steals and Deals
Even during vacation week, savvy skiers and riders can find deals and discounts.
Alex Lahood, Business Manager at Whaleback, calls their last 2-hour deal "a good hidden gem, especially at night!" It's a flat rate of $20 for the last 2 hours every day.
Pinehill Ski Club is a bargain for their classic cross country ski area, with tracked trails through mostly easy to moderate terrain. Trail passes are just $15 for adults, $5 for teens. Kids 10 and under ski free. Go to www.pinehillskiclub.com for conditions.
Thomas Prindle, marketing manager at King Pine, stated, "Our low-priced and very affordable Twilight Ticket option offers skiing & snowboarding from 3:30-6 p.m. when a large number of skiers & riders have left for the day." It's just $32 for adults even during the holiday period.
Gunstock Mountain Resort offers Toasting Tuesdays where all guests who night ski/ride or tube can buy a s'mores packet for $1 and toast it over the fire pit from 4-8pm.
Pats Peak will be offering their POP GOES FEBRUARY VACATION WEEK pay-one-price program for 4-10pm with a special low rate of just $99. This includes skiing, snowboarding, snowtubing, rentals, and lesson tips. Reservations are required for weekends and holiday periods.
Try Alternative Activities
Skiing may be the reason for the season, but there are plenty of alternative activities at NH ski areas.
Snowshoeing
Ellen Chandler, Executive Director at Jackson Ski Touring Foundation, suggests snowshoeing as a much more casual activity than downhill. Prindle recommends King Pine's Guided Snowshoe Tours, Wednesday, February 23 & Saturday, February 26 at 2 p.m. There is no cost to join the tour, but all participants must have a valid "Skate & Trails" or other valid King Pine lift ticket or season pass.
Uphill Skiing
Most NH ski areas now have uphill skiing options where you "skin" up and ski down on special AT equipment. Lahood shared that uphill travel at Whaleback has been a huge hit. You can see more about what it is like on their Uphill Policy Page and their SkiMo Races. At all resorts, uphillers are asked to follow mountains' policies and be considerate to neighboring properties to keep things courteous. Learn more about uphill skiing at NH's ski areas by visiting https://www.skinh.com/activities/uphill-travel.
Fatbiking
Lisa McCoy, marketing manager at Great Glen Trails, shares, "Fatbiking is definitely worth a try if you like to bike and haven't done it! You can book your fatbike in 2-hour sessions on our website." Bretton Woods also has fatbike rentals.
Canopy Tours & Ziplines
The zipline craze continues even in winter, and no place more than Bretton Woods. The Bretton Woods Canopy Tour is a unique winter adventure for ages 12 and up, featuring a network of nine ziplines, three rappels and two sky bridges, expertly navigated by thoughtful and knowledgeable guides.
Snowtubing
McCoy suggests pairing up an afternoon of snowtubing with a trip on their SnowCoach up Mount Washington, with advance registration of course. More on snowtubing on the Ski NH website: https://www.skinh.com/activities/tubing
Events in New Hampshire
Vacation week wouldn't be complete without a series of fun ski area events throughout the Granite State. Ski NH compiles a complete event calendar online: https://www.skinh.com/events. Here are some highlights:
Loon Mountain welcomes Lil Tweakers and Lil Plankers on Feb. 26-27. These mini-shred slopestyle competitions for ages 14 and under will keep the stoke high.
Waterville Valley will be setting off fireworks - the ultimate apres ski festivity - on Feb. 16 and 26, as will Cranmore on Feb. 26.
Cranapalooza returns to Cranmore Mountain Saturday, February 19th through Saturday, February 26th. Cranmore's signature family event will take place each day from 2:30pm – 4:30pm. The block party style event includes $1 smores, music, appearances from Cranmore's penguin mascot, C-more, lawn games, giveaways and more.
Ski New Hampshire is the statewide association representing 32 alpine and cross-country resorts in New Hampshire. For more information on ski areas, trail conditions, vacation planning, and updated winter events at Ski New Hampshire resorts, visit SkiNH.com. For statewide travel info, go to VisitNH.gov.