Mount Washington Valley Ski Touring & Snowshoe Center

+ EXPAND
TERRAIN
Total Km
45
Groomed Km
45
Tracked Km
45
Skate Groomed Km
45
Snowshoe Terrain
45
CONDITIONS
OPERATING STATUS
Open for Events/Activities
LAST UPDATED
03.27.2023

Mount Washington Valley Ski Touring & Snowshoe Center
Inn-to-inn touring on more than 45 kilometers of trails through riverside hayfields, mountainside spruce, and hemlock forests, with diverse terrain for all abilities. Trails connect the town of Intervale with North Conway Village, offering views of the Saco River and magnificent Mount Washington. Guided snowshoe walks offered weekly, snowshoe yoga and lessons are all available with advance reservations.

Lodging available at a variety of trailside, or nearby, properties offering Stay and Ski FREE packages. Free daily passes also available at a variety of trailside businesses including Cathedral Ledge Distillery, the Local Grocer, and Ledge Brewing Company.

Don't miss the 33rd Annual Inn-to-Inn Chocolate Festival, known as the "Sweetest Day on the Trails" to be held on Sunday, February 26, 2023. Tickets are limited and available for purchase online or with a Festival Package offered by a member lodging property. Tickets go on sale on December 1st and will sell out fast.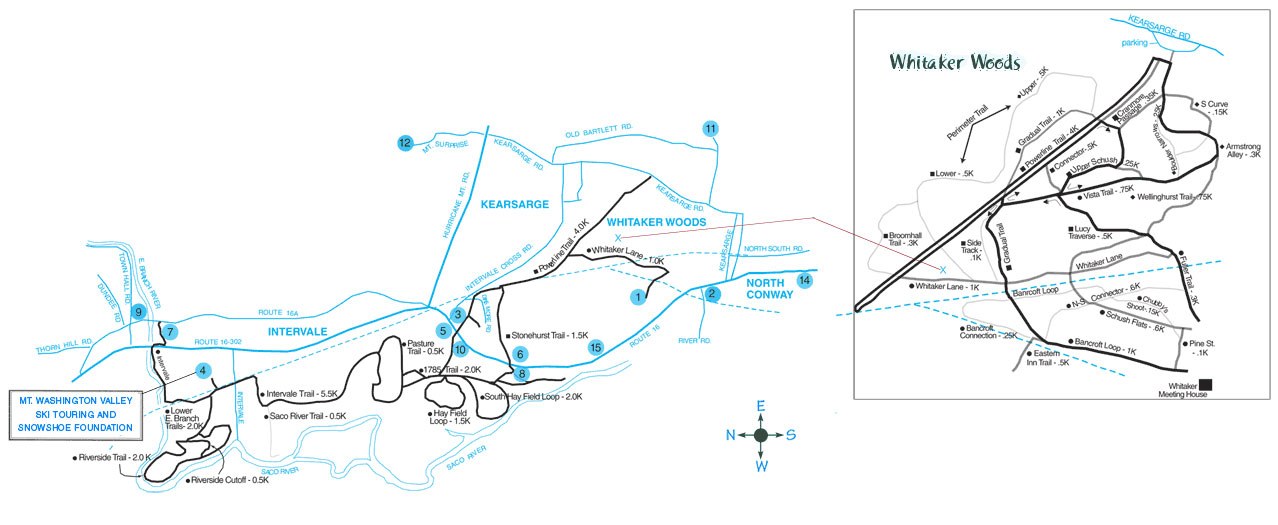 Click map for a larger version